Medicine Head discography
- picture sleeve singles -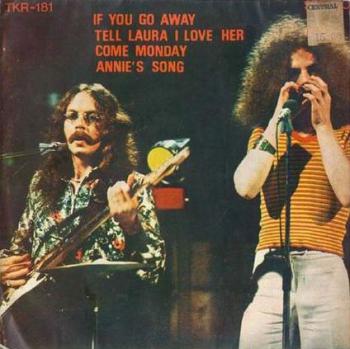 Follow the links below to browse through the archive of Medicine Head picture sleeve singles from all over the world. I am always looking to add more sleeves, so get in touch if you can help!
A rare Thailand EP (Royal Sound TKR181) with a Medicine Head picture sleeve has recently surfaced (pictured right). As is the case with most Thailand EPs, the band on the cover is not on the actual disc! The featured artists are TERRY JACKSON "If You Go Away", JOHNNY T ANGEL "Tell Laura I Love Her", JIMMY BUFFETT "Come Monday" and JOHN DENVER "Annie's Song".

---
[ back to John Fiddler discography index ] [ back to Medicine Head discography index ]
---
this page is part of the Mott Archive website - click here for more info