the Mott archive
a Mott The Hoople website
with news, discographies, picture sleeve gallery and guide to cover versions for Mott The Hoople and all members and spin-off bands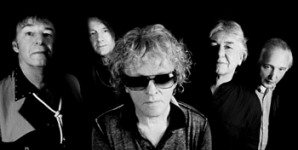 LOUNGE LIZARD / miscellaneous
This page details records and memorabilia with a Mott family connection, that do not fit in easily to any other category.

Quick links: Hugo & Luigi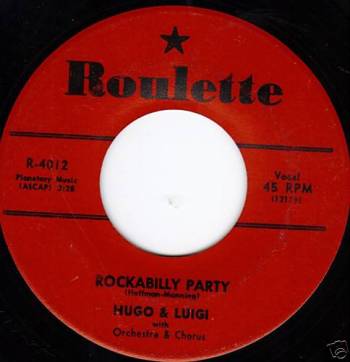 "ROCKABILLY PARTY" USA 7" single | 1957
(Roulette R-4012)

The spoken dialogue found in "Roll Away The Stone" was first used in the song "Rockabilly Party", recorded by Hugo (Peretti) & Luigi (Creatore) in 1957. It was a US and UK single backed by "Shenandoah Rose", and was also available on 78rpm. The UK release was issued by Columbia (DB 3978).
The first verse of "Rockabilly Party" has the boy/girl dialogue of 'Theres a Rockabilly party on saturday night / are you gonna be there, etc etc', and the second verse is just a list of all the artists they plan to play at the party. Ian Hunter's spoken word lyric is almost word for word identical to Hugo & Luigi's version!

Hugo & Luigi were a record producing team based in New York. After releasing several singles for Mercury Records in the mid-1950s, they went on to produce Perry Como, Elvis Presley, Sam Cooke and other artists for RCA Victor, including the hit records "Twistin' The Night Away", "Another Saturday Night", "The Lion Sleeps Tonight" by The Tokens, the Isley Brothers's classic "Shout", and Little Peggy March's "I Will Follow Him". They also co-wrote Presley's hit "Can't Help Falling in Love", and produced albums by Della Reese.

The "Rockabilly Party" spoken word intro was used as the theme song for "Gus Goodwin's Rockabilly Party" radio show at Radio Luxembourg in the late 50s, and is where Ian probably heard it. Radio Luxembourg used to broadcast on the MW-band and was popular all over Europe in the 50s and 60s.