MICK RONSON
- The Spider With The Platinum Hair
New Mick Ronson biography by Weird & Gilly!
---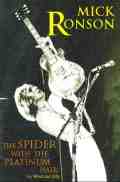 IMP have issued this press release:

Available from Independent Music Press in London from 29th September 2002 (now pushed back to January 2003 - Sven). This is the first and only biography ever published on one of the most legendary guitarists and rock stars of all-time.
Mick Ronson was the guitarist for Ziggy Stardust, but he was also a whole lot more. This world-first biography is crammed with numerous first-hand recollections by those who were closest to him. During the five years it has taken to collate this work, the authors have spoken to over 50 family members, close friends and colleagues including exclusive interviews with Suzi Ronson (wife), David and Maggi Ronson (brother and sister), Minnie Ronson (mother), Steve Popovich (manager), Lou Reed, Mick Jones, Ian Hunter, Chrissie Hynde, Glen Matlock, Cherry Vanilla (PR), Steve Harley, Bob Harris, Joe Elliott and a host of others.

As a result, this book provides a deeply intimate and compelling insight into the life and times of an extraordinarily talented guitarist. A man who was tender and caring off the stage, yet fierce and electrifying on it. Jeff Beck, David Bowie, Ian Hunter and Annette Peacock are just a few of the names that were to become associated with the Mick Ronson legend. He toured with Bob Dylan, played with Mott The Hoople, worked with Lou Reed and produced an impressive number of albums with arresting originality. After losing his battle with cancer, Mick passed away in the Spring of 1993 at the young age of 46. This book is a salute to his remarkable music and legacy.

From his days as a mobile grocer to his performances at Wembley Stadium, this minutely detailed biographical account features exclusive interviews with close family, friends, musical colleagues and admirers as well as scores of unpublished photographs and unseen rarities including: a hand-written six-page autobiography by the man himself, extracts from his personal letters home, love letters to his first girlfriend, family album photographs and an exhaustive illustrated discography.

The 6th of June 2002 marks the 30th Anniversary of David Bowie's influential The Rise And Fall Of Ziggy Stardust And The Spiders From Mars album. Mick Ronson was an integral part in that iconic record. This world-first biography commemorates the life of a man full of passion and commitment, not only to his musical career but to his relationships with his family, his friends and his fans.


---
this page is part of the Mott Archive website - click here for more info