Mick Ronson Discography -
LES FRADKIN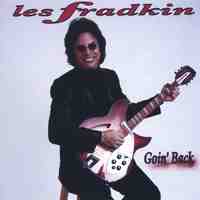 Mick Ronson and Hilly Michaels (Ian Hunter band drummer) formed a short lived band with bassist Les Fradkin (of Left Banke and Edison Lighthouse fame) in 1982, but it took almost 25 years before any recordings by this band saw the light of day!
[22 January 2007] The band recorded a song called "Spare Change", and it remained unreleased until Les Fradkin put it on his 2006 album "Goin' Back"! The press release blurb states that "the album features Les' renowned Rickenbacker 12-String Guitar and Phil Spector productions stylings and showcases his smash iTunes download hit single of "Have I The Right" along with some special surprises!"
---
EXCLUSIVE LES FRADKIN INTERVIEW! (by Sven Gusevik)

Q: "How did the collaboration come about? "

A: Hilly Michaels was interested in working with me and he suggested Mick for the lead guitar slot. Mick came over to my apartment and heard my material and loved it. He then decided we should join together as a band to get a record deal. I played bass and sang. Our keyboardist on this session was Tommy Mandel. The Rick 12 was overdubbed by me. I sang lead and Hilly and I did the background vocals. My favorite bit in the tune "Spare Change" was how Mick and I got the Rick 12-string sound with so much echo. My old apartment building in NYC had very long hallways (350') so we recorded the sound of my guitar in that hallway as an overdub to achieve this. For years, no one could figure out how we did this. "I'm Gonna Love You" was another one from that band, I redid it (for "Goin' back") since the old recording was damaged.

Q: "Were there many tracks recorded? Any chance of releasing them, or are they also damaged?"

A: We did several titles: "I Can Never Say Goodbye", "Spare Change", "Sailing". I'm still looking for the recordings. Hopefully, they are playable without "baking" and, if so, may one day see release.

Q: "I know that Ronson had a band called the New York Yanquis in 1981 with guitarist Shayne Fontayne (aka Mick Baraken) and drummer Wells Kelly. Was your project before or after this (autumn 1981)? Did you ever play live with this band? And what caused the band to break-up?"

A: After. We worked in 1982 - we never performed live as a band. We didn't get a deal, alas. That kind stopped us cold. Mick recorded with quite a few people in those days. This divided his attention and that probably wasn't good for our band momentum. Mick also had some pretty lax punctuality habits. Despite this, I still liked him. Musically, we were damn good. And we knew it. Mick's solo on "Spare Change" is pretty wonderful. The A&R guy most interested in us was Steve Katz (ex-BS&T guitarist) who was A&R at Mercury then.

The CD is available from CD Baby.
---
---
this page is part of the Mott Archive website - click here for more info