The Love Affair Mk 2.1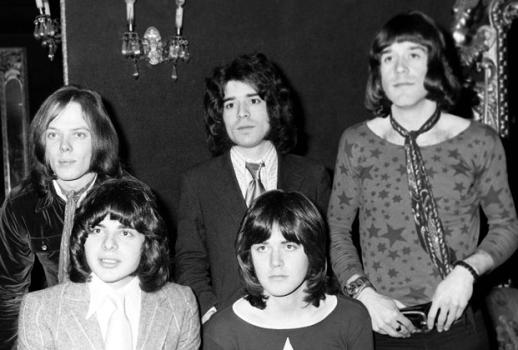 (January 1970 - December 1970)

from left:
Morgan Fisher - keyboards
Maurice Bacon - drums
Rex Brayley - guitar
Mick Jackson - bass
August Eadon - vocals, flute

When Steve Ellis left, the other band members had wanted to replace him with Phillip Goodhand-Tait.

Not only was he a friend of the band and an excellent songwriter, Goodhand-Tait was also a seasoned performer. He had released three singles with the Stormswille Shakers back in 1966, plus he had a solo single issued by Decca in 1970. As it happened, Goodhand-Tait was considered being too old by the bands management, so they asked August "Gus" Eadon to join instead. At the time August fronted the Elastic Band using his real name Ted Yeadon, a band he formed in 1967 with guitarist Andy Scott.

Ted Yeadon had recorded an album with the Elastic Band for Decca in the summer 1969 but he left the band before the album was released, and changed his name to August Eadon at the same time. Bacon: "We got Gus (August) Eadon in from the Elastic Band, a really good frontman. My father carried on co-managing with Ken Street, ex-guitarist with Emile Ford & the Checkmates. John Cokell had left to look after Steve Ellis' affairs."

Gus Eadon was also a multi-instrumentalist. With him the Love Affair added flutes, vibes, congas, harmonica and trumpets to their sound. He joined the band in December 1969 and the new look Love Affair made their recording debut in February 1970, with a single called "Lincoln County". This was the final Goodhand-Tait composition to be recorded by the original band but he would help out a later incarnation of the band later, and it was the last to feature Keith Mansfield's polished orchestrations. It was another flop, so the band decided to finally drop the teenybopper image in favour of an underground approach, having realised that the musical tide was turning and a big new scene was opening up. A new direction had to be found, and the band looked to Jethro Tull for inspiration, having already experimented with progressive music on "Sea of Tranquility", the B-side of "Lincoln County". August Eadon had also gone progressive with the Elastic Band. August: "We couldn't become underground overnight, it had to be a gradual change. We began changing the image when I joined the group earlier this year. And now we have reached the point when we don't feature any of our old hits on stage". In keeping with the new policy, the Love Affair shortened their name to the more psychedelic sounding L.A.

Maurice Bacon: "The problem was, we started as credible and then became this sort of a joke - with the stigma of not playing on our singles. Things were changing, too. We played with the Episode Six, a pop harmony band like the Beach Boys, and suddenly they were Deep Purple! We wanted the same credibility".

L.A. appeared on Top Of The Pops in support of their May 1970 single, "Speak Of Peace, Sing Of Joy" which actually was credited to the Love Affair! Album sessions commenced during the summer. The L.A. album was called "New Day", and band did a few UK dates and toured Europe in order to promote it when it was released in September - they also performed "Bad Girl" and "Gypsy" on the BBC 'Disco 2' TV show on 7 October 1970. The album was produced by Mike Smith and the Zombies drummer Hugh Grundy and featured only group compositions. Sadly the album and single didn't sell - it was apparent that the pop fans didn't like their new, progressive sound and the rock fans wouldn't even give them a chance. Maurice: "The name change didn't work, so we reverted back to Love Affair again!" Love Affair signed with EMI in 1971 and a single was released on Parlophone in February 1971. "Wake Me I Am Dreaming" was credited to "the Love Affair featuring August Eadon". It was produced by Ken Street, ex-guitarist with Emile Ford & the Checkmates, who by then was acting as co-manager of the band as well. The song was a Lucio Battisti cover.

"Wake Me I Am Dreaming" turned out to be Rex Brayley and Mick Jackson's final recording with the band; they both formed bands of their own. Rex played drums in his new band which was called Muscles and included guitarist Huw Lloyd Langton (of Hawkwind fame), but he quit the music business after Muscles broke up around 1973. He resurfaced in 1998 as the co-writer of Steve Ellis' solo single "Step Inside My Love". He also played some live dates with Steve Ellis' Love Affair in the early 90s. In 2002 Rex made some new recordings available on www.mp3.com.

Mick formed the band Calvary who recorded some tracks for EMI that was never released. He eventually left the music business. Around 2010 Mick sold his successful automotive consultancy business (e-Goodmanners Ltd and Jackson Consultancy Plc) to channel all his energies into motor racing (BM Racing), competing with his son Ben across Britain and Europe in sports cars made by the British auto manufacturer Radical. He is currently (as of 2012) chairman of Win Win World.