Mick Ronson Discography -
THE PHANTOMS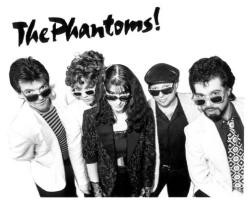 The cassette only compilation "A Woodstock Sampler vol. 2" was released in 1987 on Wildlife Records. It was subtitled "an eclectic personal collection of local Woodstock artists" - and included the track "I Forgot" by The Phantoms with Mick Ronson on lead guitar!
[09 July 2008] "I Forgot" was also included on The Phantoms self-titled cassette only album (also known as "Let's Go Dancing" after the first track), issued the same year. Ralph Leglini was the producer of the Phantoms album, and he brought Mick up to Bearsville Studios to play the solo on that track. Ralph was one of Ronson's best friends while he lived in Woodstock. He also played guitar and keyboards in Ronson's 1988 touring band. See below for an exclusive interview with Ralph! Quick links:
The Phantoms discography | Ralph Leglini interview
---
- The Phantoms discography -
---
THE PHANTOMS - 1987 cassette only album

Tracklist: Let's Go Dancin' / Too Long Without You / Love You Today / Hide It / I Forgot / Blind Date Boogie / He's The One That I Want / Shout Shout (Knock Yourself Out)

- USA tape: Opaque Productions OPC1

Comments: The Phantoms line-up was Jane Veillette (vocals and bass), Joe Veillette (vocals and guitar), Charlie Staxx (vocals and keyboards), Nicole Wills (vocals and percussion), Dave Ryan (vocals and drums). Additional musicians included Jorma Kaukonen, John Sebastian, Mick Ronson, Rick Danko, Gary Windo and Ralph Leglini among others.

VARIOUS ARTISTS: "A Woodstock Sampler Volume Two" - 1987 cassette only album

Artists: Denise Jordan Finley / Peppy / Dennis Yerry / Steve Thomas / Allen Kovler / Richard Morton / The Phantoms / Frankoo Richmond and Minowa / DC Wong / Michael Bitterman / The Shoo-Bops

- USA tape: Wildlife Records C-410
---
- Ralph Leglini interview -
---
[Sven Gusevik] Tell me about the Phantoms and how they came to work with Mick?

[Ralph Leglini, by email]: The Phantoms were a very popular Woodstock band. They started out as a 50's cover band. There were 5 members of the band, 3 guys and 2 girls who were all very good singers (Dave Ryan, Nicole Wills, Jane Veillette, Joe Veillette and Charlie Staxx). I encouraged them to write and perform some original material, and that's how this record came about. Aside from Mick, John Sebastian (harp), Rick Danko (bass), Jorma Koukonen (electric guitar) & Gary Windo (sax) also play on various tracks. (Sadly, Mick, Rick and Gary have all gone on to that big jam band in the heaven!) It was recorded at Todd Rundgren's Utopia Studio, Midnight Modulation, Nevessa Studios, and mixed at Bearsville Studio B. Nicole Wills, sang lead on "I Forgot". She was a Bearsville Records recording artist who also sang with The Johnny Average Band, featuring Nicole Wills. Right before we mixed this song, Ronson came up and did his 8 bar solo (a tremendous pop / R&R solo). He used my 1961 Fender Esquire Custom (which he liked a lot, and would occasionally borrow for sessions) through an MXR Dynacomp and into an old Marshall Amp. George Cowan was the engineer for the session, which I recall as going pretty quick - a few run throughs, and then the take. The first 6 bars were a keeper, and then Mick punched in the last 2 bars a few times until he was happy with it. We all thought it was a great Ronson solo!

What can you tell me about the 1988 tour dates with Mick Ronson and Sham Morris?

[Ralph Leglini]: They were a lot of fun. He often told me that he preferred being the only guitar player in a band, and never liked playing in a band with another guitar player until he played with me. He said most other guitarists play way too much, but that I played guitar more "like a keyboard player". I can still hear his very animated voice saying, "Sometimes you don't play anything for a whole verse, and then you come in and play just one big note through the whole chorus - but it's the right note!" He was certainly one of a kind! I have a rainny day project to go through a bunch of 4 track recording tapes I have stored. On them, I do have a song or two that Ronson and I were writing together.

The photo (pictured right) was taken after a rehearsal of The Mick Ronson Band (featuring Sham Morris on vocals) in 1988. That's me on the left, the other guy is drummer Charlie Shu.
---
---
this page is part of the Mott Archive website - click here for more info