the Mott archive
a Mott The Hoople website
with news, discographies, picture sleeve gallery and guide to cover versions for Mott The Hoople and all members and spin-off bands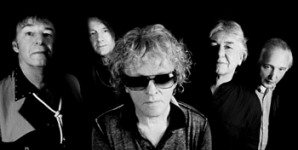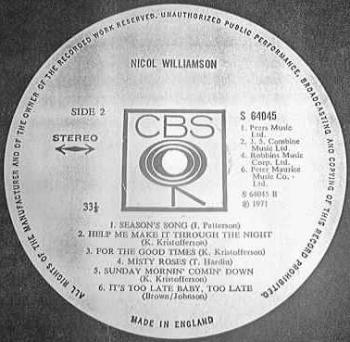 "NICOL WILLIAMSON" UK LP
(CBS S 64045)

This self-titled album by British actor Nicol Williamson contained his version of "Season's Song", a composition Ian Hunter Patterson wrote while working for the publishing house Peers Music in 1967/68, plus songs by Tim Harding and Kris Kristoffersen among others.
Released in 1971, the album reportedly features Roy Young (piano), Ringo Starr (drums), George Harrison (guitar), Eric Clapton (guitar) and Klaus Voorman (bass). Said Roy Young: "I worked with George Harrison and Eric Clapton on a strange project with the Shakespearean actor Nicol Williamson, who couldn't sing. I guess it was a tax write-off. It was Eric, Ringo, George, [bassist] Klaus Voormann, and myself. It was quite funny. Nicol Williamson just could not sing. We were doing all these old rock and roll songs like "Be-Bop-A-Lula" and "Shakin' All Over," and we'd play half the song and he'd go, 'That's enough! That's enough! Let's have a drink!' and bring out these cases of champagne. It was just an excuse for a huge pisser."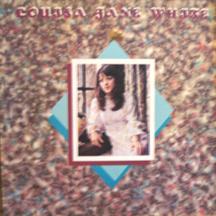 "LOUISA JANE WHITE" UK LP
(MCA Records MUPS 483)

British singer Louisa Jane White (her real name was Lesley Whitehouse) covered "Seasons Song" for her self-titled debut album in 1973 for MCA Records. The album also included songs by Curtis Mayfield, Joe South, David Gates, Tim Hardin, James Taylor and Jim Webb.
TRIVIA ALERT! Louisa Jane White had released a few singles with her backing band Savage Rose in 1968/69. Savage Rose & Fixable was one of the band names Guy Stevens had in mind for Mott The Hoople, but he dropped it since it was already taken!