the Mott archive
a Mott The Hoople website
with news, discographies, picture sleeve gallery and guide to cover versions for Mott The Hoople and all members and spin-off bands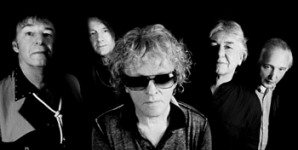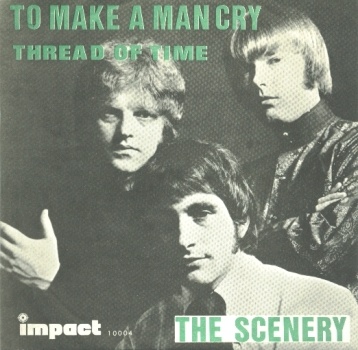 "TO MAKE A MAN CRY" Belgium / Japan 7" single
(Belgium: Impact IMP 10.004) - pictured left top
(Japan: Columbia LL-2258-IM) - pictured left below

"To Make A Man Cry" and "Thread of Time" were both written by Patterson, Anderson and Antrobus (aka Ian Hunter, Miller Anderson and Bill Farley) and recorded at Bill Farley's Regent Sound Studio in London.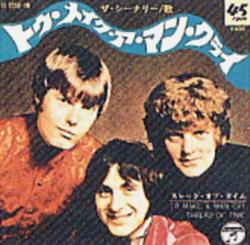 Both tracks were demos, released in Belgium and Japan without the band's approval, and the band didn't even know about these releases until the early 90s! The Scenery consisted of Ian Hunter (bass), Miller Anderson (guitar, vocals) and John Vernon Smith (drums) and they are all depicted on the single covers pictured left, although it was Johnny Banks from The Merseybeats who actually played on the record. According to Miller, Johnny Gustafson was also at the sessions.
The Belgium single was later re-issued without picture sleeve (Impact IMP 20.018). "Thread of Time" can also be found on the following compilations albums:
LP: Clap Hands Daddy Come Home (Dig The Fuzz DIG036LP)
LP: Red With Purple Flashes (Parka Records PARKA 007)
CD: Jagged Time Lapse Vol. 3 (Flashback Productions FBCD03)
CD: Electric Sound Show Vol 1: We All Live On Candy Green (Sound Show SSRCD 201)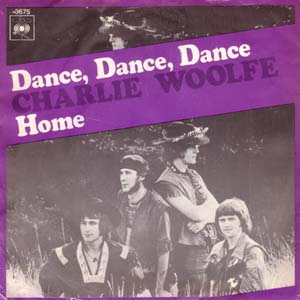 "DANCE DANCE DANCE" Holland 7" single
(CBS 3675)

Ian Hunter co-wrote the B-side "Home" for this 1968 single by Charlie Woolfe with Freddie Fingers Lee and Miller Anderson. Ian was the bass player in the band, Miller played guitar, Freddie was the pianist and lead vocalist, and Pete Philips played drums.
The A-side was "Dance Dance Dance" written by the songwriting team of Carter/Lewis/Stephens (John Carter, Ken Lewis and Geoff Stephens). The single was also released in England (NEMS 56-3675). Earlier in the year the band recorded a single called "I Can't Drive" billed as At Last The 1958 Rock And Roll Show. Ian and Miller had hooked up with Freddie Fingers Lee when The Scenery broke up.

Ian and Miller Anderson have been friends since the 60s. Miller is namechecked in the song "American Alien Alien Boy" ('Well, I remember all the good times, me an' Miller enjoyed / Up and down the M1 in some luminous yo-yo toy'), and they last played together when Miller deputized as Ian's lead guitarist at the Bergenfest festival in Norway in 2005.