the Mott archive
a Mott The Hoople website
with news, discographies, picture sleeve gallery and guide to cover versions for Mott The Hoople and all members and spin-off bands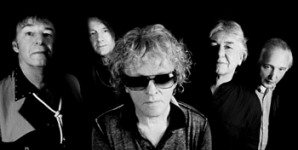 MICK RONSON songs on
"various artists" compilation albums
This is a list of compilation albums featuring at least one track by Mick Ronson (typically record label samplers, hit compilations and movie soundtracks).

Clicking a thumbnail or link in the list below will open a cover image in a separate picture viewer. Please get in touch if you can add more titles, any missing catalogue numbers or cover scans.
1995 CD - Audio 9 (Audio CD9 - GRE): SLAUGHTER ON 10TH AVENUE (free CD with "Audio" magazine)


2012 CD - Cherry Bombs (ROC177-11-12 - UK): ANGEL NO. 9 (free CD with 'Classic Rock' magazine)
1999 CD - Glam Bam Thank You Ma'am (Buddah Records 99617 - US): WHITE LIGHT WHITE HEAT
2000 2xCD - Glamrock (SPV Records SPV 089-29892 - GER): HEY MA GET PAPA
2002 CD - Guitars For Freedom II (Angels On Earth - US): INDIAN SUMMER


2006 CD - Oh! You Pretty Things - The Songs of David Bowie (Castle CMQCD1311 - UK): see write-up below


1975 LP - Rock News Vol. 23 - Marz 1975 (Teldec 6.621007 - GER# promo): BILLY PORTER
1980 LP - Rock Stars (Chrysalis CRL-30003 - ARG): FBI (from "Welcome To The Club")


1999 CD - Sir Price - Die Zweite (Edel - Germany): ONLY AFTER DARK

2001 CD - Soundhouse Loves You (Soundhouse - GER): CRAZY LOVE


1999 CD - Unconditionally Guaranteed Vol 7 (Uncut UNCUT UG-8 14 - UK): I'D GIVE ANYTHING TO SEE YOU
(free CD with 'Uncut' magazine)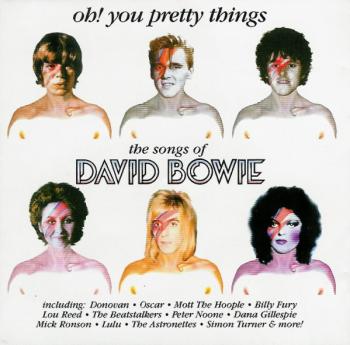 UK 2006 CD: Castle CMQCD1311

This 23 track compilation has three Mick Ronson tracks ("Music Is Lethal", "Growing Up And I'm Fine" and "Hey Ma Get Papa") and there are also previously unreleased mixes of Lulu's "The Man Who Sold The World" and Dana Gillespie's "Andy Warhol", both produced by and featuring Ronson.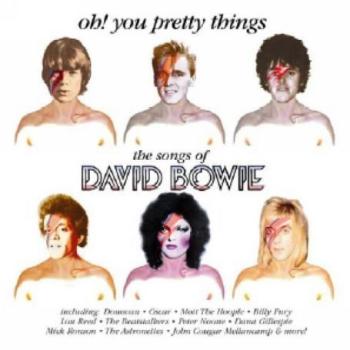 Mott The Hoople's "All The Young Dudes" is also included. And yes, that is Mick pictured between Lulu and Dana Gillespie on the frontcover! A 22 track version with a slightly different cover with the same catalogue number is also available (pictured right).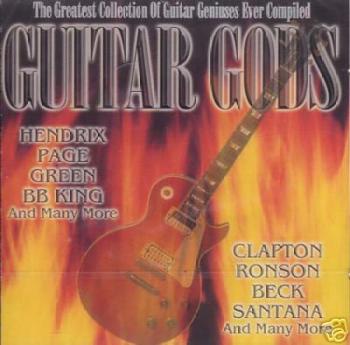 UK 2000 CD: Dressed To Kill Records

On this 14 track collection of "Guitar Geniuses", Mick Ronson is rightly featured alongside Eric Clapton, Jimmy Page, Jeff Beck, B.B King, John Mayall, Uli John Roth, James Stevenson, Carlos Santana, Peter Green, Peter Frampton and Jimi Hendrix. The Mick Ronson track is "Belgique Blue" (by Andi Sexgang).