the Mott archive
a Mott The Hoople website
with news, discographies, picture sleeve gallery and guide to cover versions for Mott The Hoople and all members and spin-off bands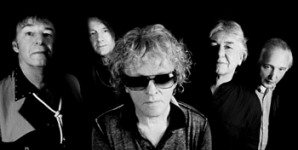 MOTH POET HOTEL
- a tribute to Mott The Hoople
Morgan Fisher wrote in his sleevenotes to the 1996 CD "Moth Poet Hotel", "I'm delighted to say that we have here a cracking collection of Mott covers. Recording this album was an absolute joy, and I'd like to play a glorious crashing chord on the largest grand piano I can find, as a huge "thank YOU!" to all the artists, managers, roadies, record company people and everyone involved. Now - where's my room key? I know I put it somewhere. Probably left it by the hotel pool, as usual. Cheers!"

"Moth Poet Hotel" was masterminded by Morgan Fisher who got some of Japan's biggest rock stars to record Mott The Hoople songs. Morgan would sit in on the sessions as well, helping out with lyrics and the occasional keyboard fill. On this page I have reprinted Morgan and Ian Hunter's comments to each song, plus Morgan's original English sleeve notes [all previously published in the OUTSIDER fanzine].

Quick links: "Moth Poet Hotel" discography | Morgan Fisher / Ian Hunter comments | English sleeve notes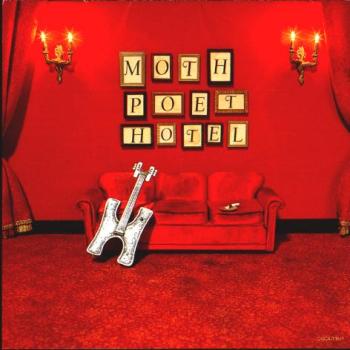 VARIOUS ARTISTS: MOTH POET HOTEL - a tribute to Mott The Hoople
(Japan 1996 CD): Triad COCA 13627

Although the album was only released in Japan, Angel Air Records planned a US/UK release in 2000. Unfortunately Brian May's manager thought Angel Air too small a label to let them release it including his track. And Angel Air didn't want to release it without Brian's track.
Tracks: MOTH POET ALL STARS: All The Young Dudes / EASY WALKERS: Rock And Roll Queen / YELLOW MONKEY: Honaloochie Boogie / HEAT WAVE: Ballad Of Mott / BRIAN MAY: All The Way From Memphis / KAZUFUMI MIYAZAWA: I Wish I Was Your Mother / THE HIGH-LOWS: The Golden Age Of Rock n' Roll / THE PRIVATES: Death May Be Your Santa Claus / PSYCHODELICIOUS: Trudi's Song / MORGAN FISHER: Moth Poet Hotel
---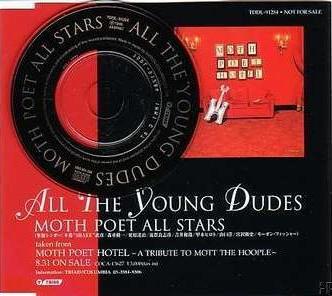 MOTH POET ALL STARS: All The Young Dudes
(Japan 1996 CD-single): Triad

To promote the "Moth Poet Hotel" album, Triad Records issued a one track 3" promo CD-single with the Moth Poet All Stars version of "All The Young Dudes". Nice sleeve design as well!
---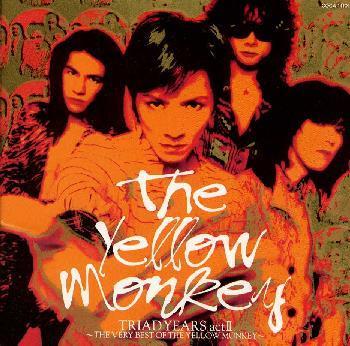 THE YELLOW MONKEY: Triad Years Act 2
(Japan 1997 CD): Triad COCA 14101

The Yellow Monkey released two greatest hits compilations in 1997, and "Honaloochie Boogie" was included on the second one, "Triad Years Act 2". The two were combined for a 2CD set in 2001, cleverly titled "Triad Years Act 1 & 2".
---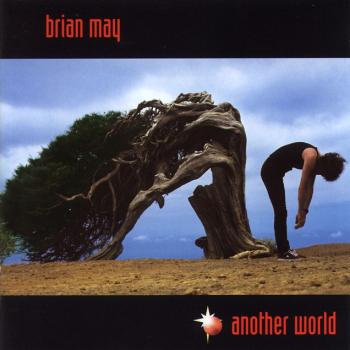 BRIAN MAY: Another World
(UK 1998 CD): EMI/Parlophone 7243-4-94973-2-0

Brian May's second solo album "Another World" started out as a cover version album, but in the end I think it was a 50/50 mix of covers and original material. His "Moth Poet Hotel" contribution "All The Way From Memphis" was definitely the stand-out track on this album!
(1) MOTH POET ALL STARS - "ALL THE YOUNG DUDES"

MORGAN FISHER: This song was, understandably, the one most of the bands wanted to cover. Rather than choosing just one band to cover it, and perhaps upsetting some of the others, I decided that it should be a joint effort - rather like "Do They Know It's Christmas?", the Band Aid epic. I made the backing track with three of Japan's finest players, including the redoubtable Hiroshi Yamaguchi of Heat Wave on guitar. It is rather different to the original and includes some of the power of Mott's live version, and an opening verse with only acoustic guitar and Beatley cellos. I played piano, organ, vibes and sang backup. All the singers (eight in all, minus Brian May but with the addition of MORISHIGE, a well-known rock singer in Japan who didn't have time to do a complete track of his own) sang a little section of the verses each, and they all joined in for the chorus. As an intro I asked Blue Weaver (ex-keyboardist with Amen Corner, Strawbs, Bee Gees - and Mott the Hoople) to record some sound effects - football crowds, and a simulated street fight with some young cockney lads having a go at each other. This track is sung in English - very hard for some of the singers, and I think they did a fine job.

IAN HUNTER: The opening sound effects are typical Morgan Fisher. The first singer sounds like he smokes a lot of French cigarettes! Great harmonies on the chorus. I see you have used the long 'I'm a Dude dad!' part from my live version - great idea! A great mix too.
---
(2) EASY WALKERS - "ROCK'N'ROLL QUEEN"

MORGAN FISHER: A Stones-y version with some great harmonica, fine solos by the two guitarists, and a powerful extended drum break in the middle. Quite similar to the original, recorded quickly with a live feel. The twin lead guitars is not like the Allman Brothers, more rocky! Also features congas! Easy Walkers hail from Osaka, a rough-and-ready business city (the Detroit of Japan?) and their music is suitably robust and wild - their singer is very Jagger-ish, with a great bluesy voice.

IAN HUNTER: Very authentic - they've got the same feeling as the original. Sounds like Mott. Good!
---
(3) YELLOW MONKEY - "HONALOOCHIE BOOGIE"

MORGAN FISHER: Sung in Japanese. Sounds very strong and guitar oriented, like Cheap Trick. The Yellow Monkey are a four piece band (no keyboards) with tremendous guitar power. This version is almost twice the length of the original (which ran only 2'45" - ah, the old days of radio singles). I played a little synth and sang a little backup. Several years ago Yellow Monkey were heavily influenced by Bowie (or, should I say, Ziggy Stardust) both musically and visually. Since that time they have evolved their own hard-hitting, guitar-based music and achieved great success in Japan - one of the few rock bands (as opposed to pretty-boy pop bands) to have had a #1 album here (in 1995). They are diehard fans of the late Mick Ronson and have raised about $50,000 for charity by putting on annual Mick Ronson memorial concerts since he passed away. I have been privileged to have played at all of these concerts. Ian approved all the translations on this album, by the way (they were translated back into English, as best they could be, and he read them).

IAN HUNTER: At first I thought the tempo was too slow. It was the 'stop/start' feel of the chords in the verses of the original that made it sound slick. However it's a good version, I can hear that the band have put a lot of thought into making the extra intro and the middle part. The guitars are faithful to the original and the piano is banging 8's nicely
---
(4) HEAT WAVE - "BALLAD OF MOTT"

MORGAN FISHER: Also sung in Japanese. A mainly acoustic version, with some lovely violin, tin whistle and mandolin. An absolute beauty. Heat Wave is the unit led by singer/guitarist/songwriter Hiroshi Yamaguchi. In sixteen years this unique band has gone through a multitude of incarnations, and the current line-up is a compact powerhouse quartet featuring Hiroshi's electrifying guitar and vocals plus drummer, bassist, and yours truly co-producing and guesting on keyboards. I discovered them through an introduction from Kazufumi Miyazawa, singer of The Boom (who also appears on this tribute), who declared that they were in his opinion the finest rock band in Japan. I am of the same opinion. Hiroshi has the lyrical sharpness of Dylan, the rock dynamism of Tom Petty, and the overflowing heart of Van Morrison (Van's longtime engineer/producer, Mick Glossop, by the way, is currently involved in the production of Heat Wave's forthcoming album). He has recently jammed with visiting Irish musicians such as Dolores Keane and Donal Lunny, both of whom said they wished they could put him in their suitcases and take him back to Ireland. His great love for Irish music and this influence is apparent in this recording. On this track I played sampler, Hammond, piano and sang backup.

IAN HUNTER: These guys know how to play! The singer has great phrasing. Nice bit of organ and piano from Morgan! I like Heat Wave's' "1995" album too. Hiroshi Yamaguchi (the singer) sent me a nice message about how my music made him grow up - I'm glad I could help!
---
(5) BRIAN MAY - "ALL THE WAY FROM MEMPHIS"

MORGAN FISHER: Brian and I go back a long way, to before Queen started (the singer from the pre-Queen band, Smile, left them to join my band, Morgan, in 1972. Soon after that I was introduced to their new singer, a rather shy, toothy chap called Freddie). I mentioned the idea of a Mott tribute to Brian about two years ago when he played here in Tokyo, and as soon as he returned home he started work on this version of "Memphis", even though nothing had been planned for the tribute. Once the idea of a Japanese tribute album came up I mentioned it to Brian and he immediately agreed that this track should be included. It features several sampled snippets from an old Mott live version of the song, plus some characteristic powerhouse drumming from Cozy Powell.

IAN HUNTER: Yeah - Brian sent me this one already. Cozy Powell is on it - he's a classic English drummer! This is a really good version!
---
(6) KAZUFUMI MIYAZAWA (THE BOOM) - "I WISH I WAS YOUR MOTHER"

MORGAN FISHER: The Boom are one of Japan's most creative rock bands. Their music has absorbed ska, reggae, Balinese gamelan, Okinawan folk, and in recent years, Latin music. I have worked with them a lot in the last two years - two albums, two three-month tours of Japan, and a short tour of Brazil in May 1996. Their biggest hit, "Shima Uta", shows their Okinawan influence and sold a million back in 1994. Miyazawa is very proud of his Japanese heritage and decided to give this song a completely new treatment, speaking the words in Japanese over acoustic guitar and grunge electric guitar in something approaching a modern Japanese folk style.

IAN HUNTER: The original verse of this song was very simple - that's the way I wanted it. I was a bit surprised by this version. Anyway, I liked the ending.
---
(7) THE HIGH-LOWS - "THE GOLDEN AGE OF ROCK'N'ROLL"

MORGAN FISHER: Shortest song on the album - clocking in at just 2'52". Sung in Japanese (with the lyrics avoiding the parts that were topical in 1973- '96 decibel freaks,' etc, and concentrating on what a gas rock and roll is) and recorded very quickly at a funky little 16-track analogue studio instead of the state-of-the-art Columbia studio used for the rest of the album (except for Brian's track). The High-Lows used to be known as The Blue Hearts and were Japan's top punk band for several years. A bit like The Damned without the Captain Sensible antics or the Dave Vanian horror movie stuff. With the recent name change they have moved more into Stonesy R & B and this song fitted their new identity perfectly. They retain the fun and power of the original and this was one of Ian Hunter's favourite tracks on this album.

IAN HUNTER: Very good! The boys singing the intro is better than the saxes on the original. Excellent drummer! Please say hello to him from me. This is a pretty basic song, but with the drums so good it becomes a party song, which is really what it is. A lot of fun!
---
(8) THE PRIVATES - "DEATH MAY BE YOUR SANTA CLAUS"

MORGAN FISHER: This band mix rapid-fire punk with techno samples and drum loops and come up with a razor-edged speed-kill version of this raging classic, and I think it works very well. Sung in English, although with the vocal distorted through a studio pre-amp you'd hardly know it, and with much emphasis placed on the F-word that was discreetly left out of the original! For those who don't remember this song (it was not a single) it stays in many people's memories as the quintessential Mott punk thrash, opening the "Brain Capers" album which was recorded several years before the era of punk. The Privates are another punky Japanese unit who somehow have kept going here for 9 years despite the lack of support for anything other than pop in Japan.

IAN HUNTER: I love the beginning. In fact it's all good. It must have been really difficult to mix. It sounds like there are a lot of instruments on it. There's a lot of energy! The echoes are fun - sounds like Mick Jones (of The Clash and Big Audio). It's very interesting how Mott affected people in so many ways - from punk to beauty.
---
(9) PSYCHODELICIOUS - "TRUDI'S SONG"

MORGAN FISHER: Sung in English by band leader Shake (pronounced sha-keh), who led a successful metal band called Red Warriors here for several years then moved to Los Angeles for five years. Quite a change from the original piano ballad - spacy a la Hendrix "Little Wing" or "Angel", lots of wah-wah guitar, showing the new path that Shake and his band are taking - psychedelia. I played ambient analog synth and Hammond. When I recorded the original with Mott I used a piano through a Leslie to give the song more depth, and this has gone much much further down the same road, turning a love song into a space hymn. Great soaring guitar solo and whispy female backing vocals.

IAN HUNTER: I like this, especially the hooks. They repeated the hooks a bit too much, it would have been better if the hooks had faded in and out more. They risked getting too aggressive and losing the original atmosphere of the song, but finally I think they did a good version.
---
(10) MORGAN FISHER - "MOTH POET HOTEL"

MORGAN FISHER: The Triad label A & R man heard the title of this song, liked it and suggested we use it as an album title. What a relief - I had been racking my brains for months trying to think of an album title! I even ran a message on a Mott mailing list and asked for suggestions, but unfortunately nothing usable came in, though many people gave it a good try. This title was generated by an anagram program on my Macintosh. Originally I planned to record a short, chaotic instrumental track such as the ones that closed Mott's first album and "Brain Capers", and came up with a simple but strong piano riff. During rehearsal the song got longer and longer, and eventually I realised it would need lyrics (which I wrote in the studio on the day of recording). It has turned out to be a powerful rocker in the same vein as Mott's "Angeline", but tougher. My voice seems to have hints of Lou Reed in it these days. The lyrics are not nostalgic but do mention some of the bands we played with and all the Mott gang's names (including some significant figures who you all know, in addition to the band members). The drummer is a monster! And to end the album, a message from one of Mott's admirers - the late great Frank Zappa. Finally, my wish it that this album, as well as bringing some pretty good songs to the attention of those who may not know them, will also do the same for a strong selection of Japan's finest rock artists.

IAN HUNTER: It sounds like Morgan in the beginning. Oh! - it is Morgan! The title is a great idea - why didn't I think of it? Morgan sings a bit like Mick Ronson - right on!
Here are Morgan's original English sleeve notes for the album

Welcome to the hotel - I hope you enjoy your stay. Just before I checked in here 23 years ago, the hotel almost closed. Suddenly, a mysterious man came to the rescue... In 1972 David Bowie heard that Mott were about to call it a day, and sent them his demo tape of "Suffragette City". With typical Mott insolence, the band told Bowie they didn't like the song so, undaunted, he went home and immediately wrote "Dudes". The rest is history.

"Death May Be Your Santa Claus" was produced by the inspired madman Guy Stevens (Guy was DJ supreme to the 60's mods, brought Billy Preston and The Beatles together, and masterminded the formation - and naming - of Mott). Guy and the band wore black capes and eye-masks in the studio, and the album containing this song ("Brain Capers") was laid down in a single tumultuous week. The Island Records staff went berserk when they saw the state of the studio at the end of the sessions: a complete mess, with chairs imbedded in the walls and instruments strewn everywhere. "Death" was that album's finest expression of their pioneering punk spirit.

"Honaloochie Boogie" was one of my first recordings with Mott. When I lugged my state-of-the-art analog synthesizer into the studio the Mott lads said, "what the hell is THAT?" During breaks in the recording we liked to pop downstairs to the pub and imbibe a drop of best British beer, which pleasantly enlivened our all-night recording sessions.

Those were exciting times in George Martin's AIR studios; almost every day we met heroes such as Robert Fripp, John McLaughlin, Bryan Ferry, and Marc Bolan casually strolling down the corridors. One day our A&R man Dan Loggins wandered in unsuspectingly while we were recording "The Golden Age of Rock'n'Roll". We pushed him in front of a microphone and coerced him into adding a spoken intro to the song in his sickeningly smooth executive voice.

Mott's songs were about real life - for example, Mick did know a stylish, intelligent lady who was a secret groupie; Ian really did lose his guitar during a USA tour and he did (and still does) adore his wife Trudi.

I'm delighted to say that we have here a cracking collection of Mott covers. Recording this album was an absolute joy, and I'd like to play a glorious crashing chord on the largest grand piano I can find, as a huge "thank YOU!" to all the artists, managers, roadies, record company people and everyone involved.

Now - where's my room key? I know I put it somewhere. Probably left it by the hotel pool, as usual. Cheers! Morgan Fisher, June 1996.