the Mott archive
a Mott The Hoople website
with news, discographies, picture sleeve gallery and guide to cover versions for Mott The Hoople and all members and spin-off bands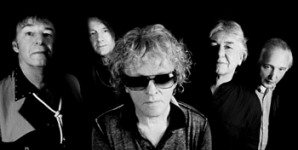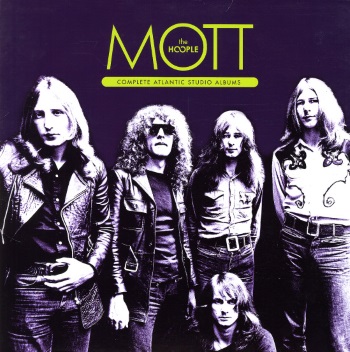 "COMPLETE ATLANTIC STUDIO ALBUMS" USA 4LP-set
(Rhino Custom Products OPLP-8862)

"Complete Atlantic Studio Albums" is a limited and numbered edition 4LP-box set on 180gram vinyl, released on 14 October 2014. The 4 LPs are exact replicas of the original Atlantic albums and comes with a 12x12 poster with informative liner notes and a rarely seen band photo from the early 1970s.
TRACK LISTING (Mott The Hoople): You Really Got Me / At the Crossroads / Laugh At Me / Backsliding Fearlessly (Single Version) / Rock and Roll Queen / Rabbit Foot and Toby Time / Half Moon Bay / Wrath and Wroll

TRACK LISTING (Mad Shadows): Thunderbuck Ram / No Wheels To Ride / You Are One of Us / Walkin' With a Mountain / I Can Feel / Threads of Iron / When My Mind's Gone

TRACK LISTING (Wildlife): Whisky Women / Angel of Eighth Avenue / Wrong Side of the River / Waterlow / Lay Down / It Must Be Love / Original Mixed-Up Kid / Home Is Where I Want To Be / Keep a Knockin' (Live)

TRACK LISTING (Brain Capers): Death May Be Your Santa Claus / Your Own Backyard / Darkness Darkness / The Journey / Sweet Angeline / Second Love / The Moon Upstairs / The Wheel of the Quivering Meat Conception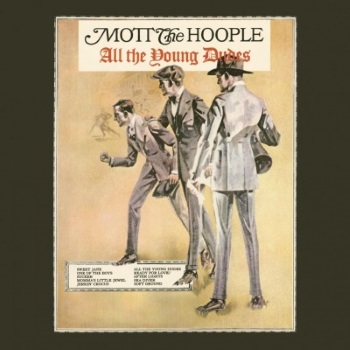 Tracklisting: Sweet Jane / Momma's Little Jewel / All the Young Dudes / Sucker / Jerkin' Crocus / One of the Boys / Soft Ground / Ready for Love/After Lights / Sea Diver

- Holland LP: Music On Vinyl MOVLP779
Re-issue of the 1972 album on 180 gram audiophile vinyl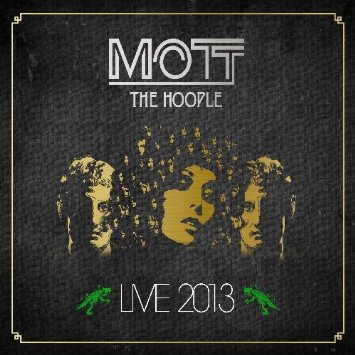 "LIVE 2013" UK 2CD+DVD
(Concert Live)

This 2CD+DVD combo captures Mott's memorable performance on 17 November 2013 at Manchester Apollo. It is the first (and last?) full-length video release by the band. In addition to the DVD, this commemorative set includes bonus audio from the same night, across two discs.
Tracklisting: Rock and Roll Queen / One Of The Boys / The Moon Upstairs / Hymn For The Dudes/ Sucker / Soft Ground / Waterlow / Born Late 58 / Death May Be Your Santa Claus / Ballad Of Mott The Hoople / Walkin With A Mountain / Violence / MEDLEY: When My Minds Gone/No Wheels To Ride/The Journey / Honaloochie Boogie / The Golden Age Of Rock N Roll / All The Way From Memphis / All The Young Dudes / Roll Away The Stone / Saturday Gigs
---
Ian Hunter: "It was a brilliant reunion tour, great to have Mott back together, even if it was for such a short time. We wanted to be sure our fans had something special to add to their collection, as each of us continue in the future with separate projects. I like the DVD, well put together and a great Mott memento."

Mick Ralphs: "It's been 5 years since the 40th Anniversary reunion shows, so it was great to be playing together again. We wanted to give fans something special to remember Mott by; I think the DVD does that perfectly."

Verden Allen: "It was great to get together again with the boys for our November 2013 reunion tour, though it all passed by too quickly, at least we have a live DVD of the Manchester Apollo gig to reflect back on, a first for Mott The Hoople and most probably the one and only for all time."

Overend Watts: "A special thanks to all our fans who've stuck with us down the years and turned out to support us in their droves. They spurred us on like the old days. I think the DVD/CDs came out brilliantly against all odds and I take my hat off to Concert Live for capturing the best footage by far there's ever been of MTH."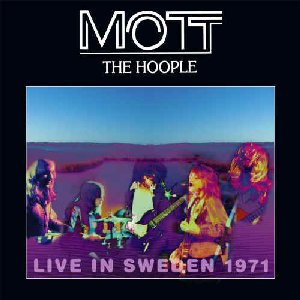 "LIVE IN SWEDEN 1971" Germany LP
(Sireena Records 4009)

Tracklisting: Long Red / The Original Mixed-Up Kid / Walkin' With A Mountain / Laugh At Me / Thunderbuck Ram / Keep A Knockin'
Vinyl only release of the 16 February 1971 Stockholm radio broadcast.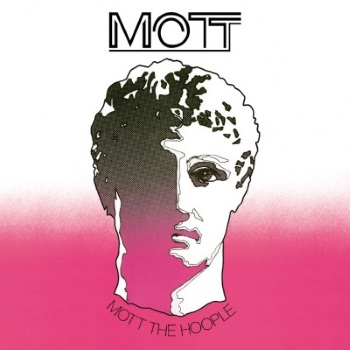 Tracklisting: All The Way From Memphis / Whizz Kid / Hymn For The Dudes / Honaloochie Boogie / Violence / Drivin' Sister / Ballad Of Mott The Hoople / I'm A Cadillac/El Camino Do Roso / I Wish I Was Your Mother

- Holland LP: Music On Vinyl MOVLP126
Re-issue of the 1973 album on 180 gram audiophile vinyl