the Mott archive
a Mott The Hoople website
with news, discographies, picture sleeve gallery and guide to cover versions for Mott The Hoople and all members and spin-off bands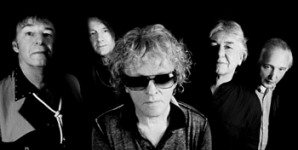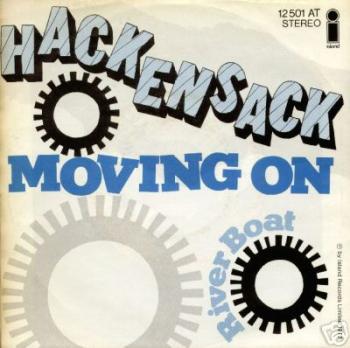 "MOVING ON" German 7" single
(Island 12501 AT)

Hackensack supported Mott The Hoople on the "Rock N Roll Circus" tour in 1972, and recorded this Mick Ralphs song shortly after. Ralphs also played lap steel on Hackensack's version. The B-side was "River Boat". Hackensack's guitarist Ray Smith would later join the Hunter-less Mott, as Ray Major.
This Hackensack recording was the first ever release of "Moving On". Mott The Hoople's original version was briefly available in 1980, on a UK promo only sampler album promoting the "Two Miles From Heaven" compilation. Only problem was, Bad Company's management didn't want the song to be included on said compilation, so it was removed in the last minute! It took another 18 years before the original would get a proper release, when it was included on Mott's 1998 3CD anthology "All The Young Dudes" (although this was a different take than the 1980 version!)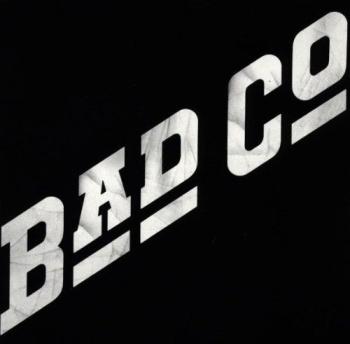 "BAD COMPANY" USA LP
(Swan Song SS 8501)

Mick Ralphs introduced the song (now renamed "Movin' On") to his next band Bad Company, and it was included on their 1974 debut album for Led Zeppelin's new label Swan Song. It was also the second US single from the album, backed with "Easy On My Soul" (Swan Song SS 70101).
The "Bad Company" album was a worldwide hit, and most people therefore think of "Movin' On" as a Bad Company song. And who can blame them. After all, just how many singles did Hackensack sell?
"FIESTA EN LA BIBLIOTECA" USA cassette
(Frontier Records FCX 1019)

The Pontiac Brothers were founded in 1983 by Ward Dotson formerly of the Gun Club and they released 5 albums between 1985 and 1992. The 1986 album "Fiesta En La Biblioteca" included "Movin' On" as a cassette only bonus track. It is sung by Ward (Pontiac Brother's lead vocalist was Matt Simon).

Furthermore, a live version of "Movin' On" by the Young Fresh Fellows, sung by Dotson in 1989 appeared first on a 1990 fan-club only cassette (more info) and it was also included on a CD by Ward Dotson's 1994 band Liquer Giants (more info).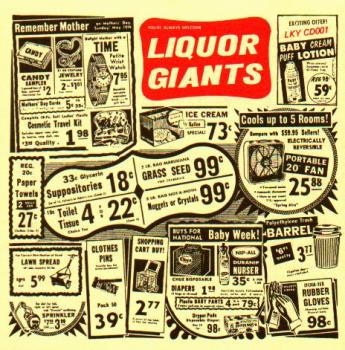 "YOU'RE ALWAYS WELCOME" USA CD
(Lucky LKYCD 001)

"Movin' On" is an unlisted bonus track on this Liquor Giants CD from 1994. The song is actually a Young Fresh Fellows live recording, with Ward Dotson from the Liquor Giants on lead vocals. Liquor Giants were formed by Ward Dotson when his former band Pontiac Brothers folded.
Recalls Dotson (by e-mail): "Actually the first time I met Scott McCaughey from the Fellows he jumped up on stage with the Pontiac Bros. and sang 'Walking With a Mountain' with us. As you know he bears a striking resemblance to Ian Hunter, so imagine that. A couple years later he called me in New York, informing me that their guitarist Kurt Bloch had broken his arm and wanted to know if I was interested in replacing him for the duration of their tour. The first night we played New York and Scott called 'Movin' On' out as the encore, even though we had not even rehearsed it. The version that's on that first Liquor Giants disc is the one and only time we ever played it. I guess thats why I love those guys, we have a lot in common musically."

UPDATE 2017: this live version of "Movin' On" was first made available on the Young Fresh Fellows fan club cassette "Gag Fah" in 1990. More info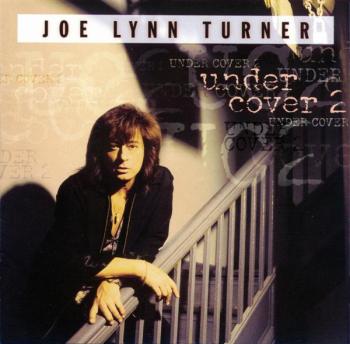 "UNDER COVER 2" USA CD
(Shrapnel Records SH 1129)

Former Alcatraz and Rainbow vocalist Joe Lynn Turner had covered Bad Company's "Deal With Your Preacher" for his "Under Cover" album in 1997, and he recorded "Movin' On" for the follow up. Vol.2 also included Beatles, Free, Thin Lizzy, Rick Derringer, UFO and Deep Purple songs, among others.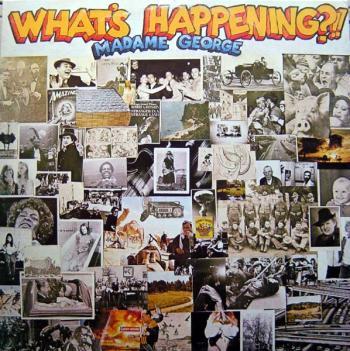 "WHAT'S HAPPENING" Finland LP
(Love Records LRLP 229)

"What's Happening" was Madame George's debut album, released in 1977. This Finnish band, named after a Van Morrison song, consisted of Janne Brunberg (bass), Jukka Orma (guitar), Bill Carson (drums) and Timo Kojo (vocals). Jim Pembroke of Wigwam fame also helped out.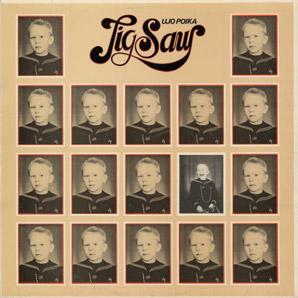 "UJO POIKA" Finland LP
(Hi Hat HILP 101)

Jigsaw released a Finnish language version of "Movin' On" on their 1975 debut album "Ujo Poika". The Finnish title was "Tie Edessäin". It was also issued on single, as B-side to the title track (Hi Hat HIS 1001). Two years later they also covered Ian Hunter's "Once Bitten Twice Shy". More info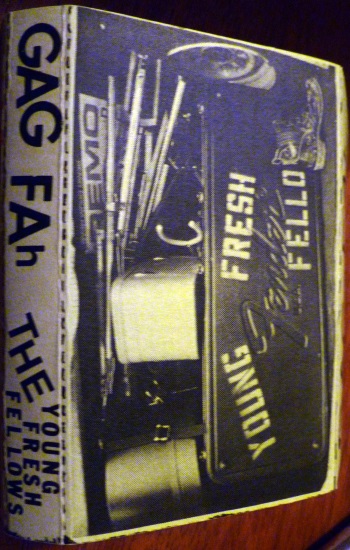 "GAG FAH" USA fan club cassette
(PopLlama PLC4)

Recorded live on 16 November 1989, "Movin' On" was first made available on the Young Fresh Fellows fan club cassette "Gag Fah" in 1990. It was sung by Ward Dotson from the Pontiac Brothers who toured with the Fellows on their 1989 tour when he subbed for guitarist Kurt Bloch when he injured his wrist during a show.

Ward Dotson added this version of "Movin' On" as an unlisted bonus track on his own Liquor Giants CD in 1994. More info
The 1994 Young Fresh Fellows fan club cassette "Merry Croutons Mr. Gulp Gulp" included a cover of "I Wish I Was Your Mother". More info