the Mott archive
a Mott The Hoople website
with news, discographies, picture sleeve gallery and guide to cover versions for Mott The Hoople and all members and spin-off bands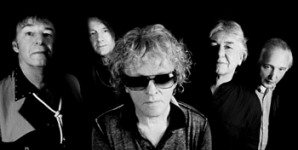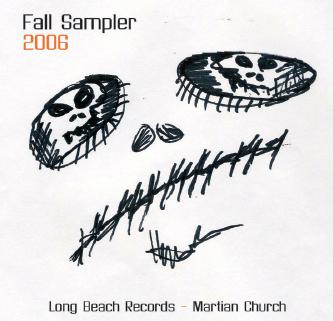 "FALL SAMPLER 2006" USA CD
(Long Beach Records LBR-SKN-078)

Long Beach Records are a subsidiary label of Skunk Records. This is their 2006 compilation of LBR bands from the US and Australia. The 3rd Alley line-up is Zack Walters (guitar, vocals), Tyson Parrish (bass) and Greg Lowther (drums), and their version of ATYD is only available on this sampler.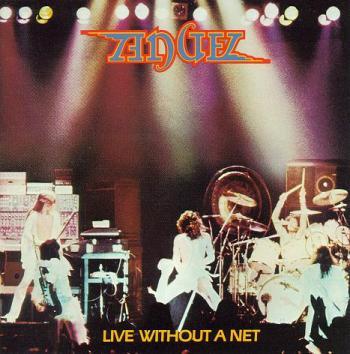 "LIVE WITHOUT A NET" USA 2LP
(Casablanca NBLP 7203)

After 5 studio albums which didn't chart, the Angels (with Punky Meadows and Greg Giuffria) released a live album in 1980, hoping it would bring them commercial success, like the album "Alive!" did for labelmates Kiss earlier. It didn't and it would be the band's last album before breaking up in 1981.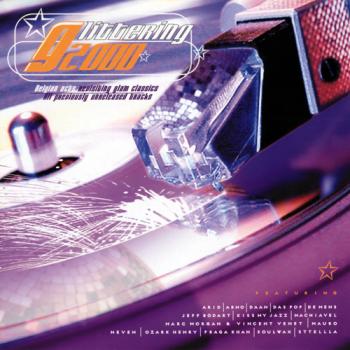 VARIOUS ARTISTS: "GLITTERING 2000" Belgium CD
(Play It Again Sam PIASB 020 CD)

This compilation album has Belgium artists covering glam classics by Queen, T-Rex, Mott The Hoople, Sparks, Mud, David Bowie, Elton John, Slade, Sweet, David Essex, Alex Harvey Band, Rubettes and Gary Glitter. Arno does a decent job on "All The Young Dudes"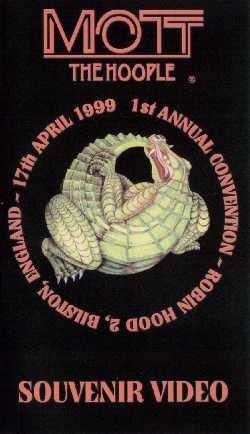 "MOTT THE HOOPLE CONVENTION SOUVENIR VIDEO" UK VHS video
(Jerkin' Crocus Productions)

The first (and only) 'annual' Mott The Hoople convention was held at the Robin 2, Bilston (near Wolverhampton, England) on 17 April 1999. Steve Hyams, John Fiddler, Ray Majors and Verden Allen plus tribute band Not The Hoople all performed live.

Three songs from Verden's set are included on the video: "Wine Ridden Talks", "Long Time No See" and "All The Young Dudes".

The video was available in VHS and NTSC format but is now deleted.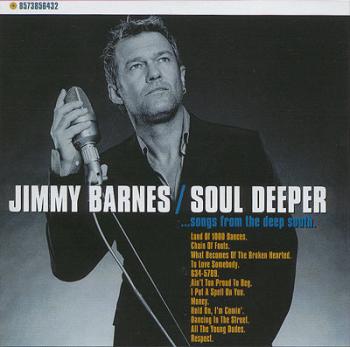 "SOUL DEEPER" Australia CD
(WEA 8573856432)

Jimmy Barnes, former leader of Australian band Cold Chisel, recorded a studio version of "All The Young Dudes" for his 2000 album "Soul Deeper (Songs From The Deep South)" - and a live version was included on the DVD "Soul Deeper - Live at the Basement", also issued in 2000.
From the CD liner notes: "It comes from a different space, and a different place in the world. I like it lyrically, and emotionally. This song is about freedom and that's what soul songs are about, "freedom and love". I wanted to get that across with the song. I played this song to my band and then played them 'Hey Jude' by Wilson Pickett, and said to them I wanted to play 'All The Young Dudes' with that sort of spirit. It's a really great version, a real soulful version."
---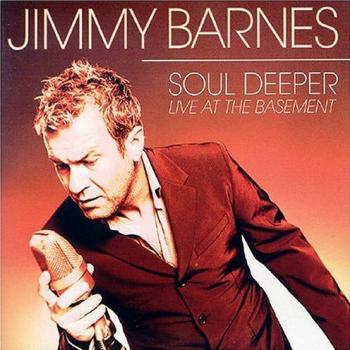 "SOUL DEEPER - LIVE AT THE BASEMENT" Australia 2CD (2004)
(Liberation 6776261)

The 2004 2CD-set "Live At The Basement" has the soundtrack from the 2000 DVD. Exclusive to the DVD are the documentary "Jimmy Barnes – Songs from the Deep South" plus an interview with Doug Mulray. The Basement in Sydney is ground central for jazz and blues in the harbour city.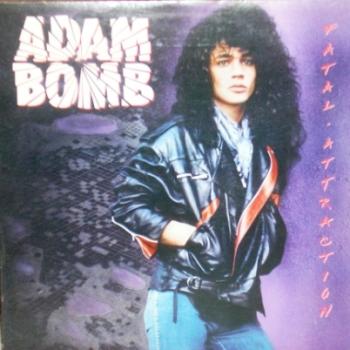 "FATAL ATTRACTION" USA LP
(Geffen GHS 24066)

Adam Bomb signed with Geffen in 1984 and released "Fatal Attraction" a year later. "All The Young Dudes" was a late addition to the album (it is missing from early Japanese editions). The album was re-issued on CD in 2001 with two bonus tracks (Metal Mayhem MM 00021).
---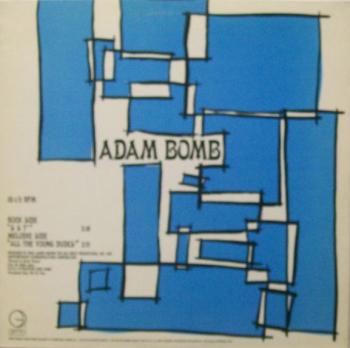 "SST / ALL THE YOUNG DUDES" USA 12" promo single
(Geffen PRO-A-2310)

"All The Young Dudes" was also issued as promotional single in the US, coupled with another album track, "SST". Backing Adam on this single (and album), were members from Aerosmith (Jimmy Crespo), Billy Idol (Phil Feit), Riot (Sandy Slavin) and AC/DC (Cliff Williams).
Adam Bomb, whose real name is Adam Brenner, later recorded an acoustic version of "All The Young Dudes" for a 2007 David Bowie tribute album, using the pseudonym Pink Gibson!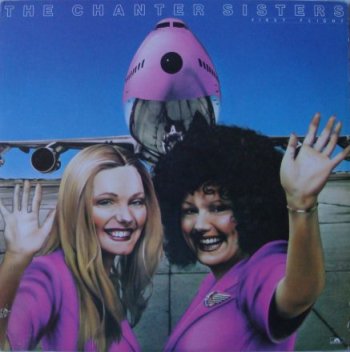 "FIRST FLIGHT" UK LP
(Polydor 2383 382)

Irene and Doreen Chanter were in demand session singers in the 70s and 80s, working with Elton John, Roxy Music, Roger Waters, Joe Cocker and many more. They also released a few albums as the Chanter Sisters, and ATYD was included on their "First Flight" album, produced by Roger Cook.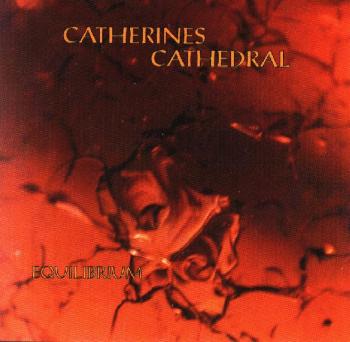 "EQUILIBRIUM" Sweden CD
(Noxious Records NOX 004)

Catherines Cathedral were a Swedish gothic rock band, very influenced by Sisters of Mercy and Fields of the Nephilim. They released three albums in the mid 90s, and covers of "All The Young Dudes" and "Lucy In The Sky With Diamonds" were included on their 1995 "Equilibrium" album.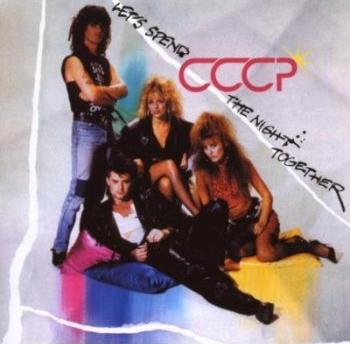 "LET'S SPEND THE NIGHT TOGETHER" Norway LP
(Plateselskapet GHP20)

Casino Steel (aka Stein Groven) and Claudia Scott from Norway teamed up with Carlene Carter and John Payne to form CCCP in 1986. They released only one album with covers of classic rock songs before disbanding. It sold well in Norway, but the album was not released elsewhere.
TRIVIA ALERTS: (1) Casino Steel later initiated Ian Hunter's Dirty Laundry project. (2) The guitarist on the CCCP album was Torstein Flakne who also played on Hunter's "The Artful Dodger" and "Strings Attached" albums in the 90s. (3) Ellen Foley and Gary Holton (ex Heavy Metal Kids) were supposed to join the band, but Ellen backed out when Gary died and they were replaced by Claudia and John.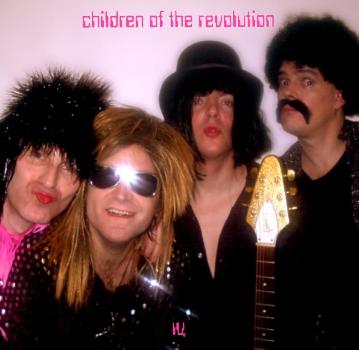 "CHILDREN OF THE REVOLUTION" UK CD
(21st Century 21C019)

Children of the Revolution are a 70's style glam rock band created by The Alarm. This album has covers of their favourite glam songs, including ATYD and features James Stevenson (Gene Loves Jezebel), Mike Peters (The Alarm), Craig Adams (The Mission) and Steve Grantley (Stiff Little Fingers).
James Stevenson also recorded "All The Young Dudes" with his band Gene Loves Jezebel in 1999, and Mike Peters released a solo version in 2006.
"PHE CULLEN" USA CD
(United One UNTO 3020)

For her self-titled covers album from 2002, Phe Cullen recorded songs by Jimi Hendrix, the Rolling Stones, Pink Floyd, Alice Cooper, Jethro Tull, Cream, Hoyt Axton, Judy Collins and Mott The Hoople. She was backed by Kevin Breitt (guitar), Brian Bromberg (bass) and Vinnie Colaiuta (drums) among others.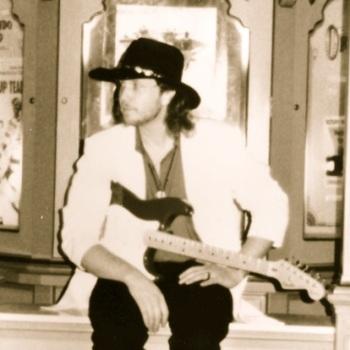 "WHAT'CHA PUT IN THAT KISS" USA CD
(unreleased)

Blues guitarist Tony Deziel recorded five of his favourite cover songs for a 2006 EP which never made it past the promo stage. "All The Young Dudes" was one of the covers, and it has since been made available from his website, www.tonydeziel.com.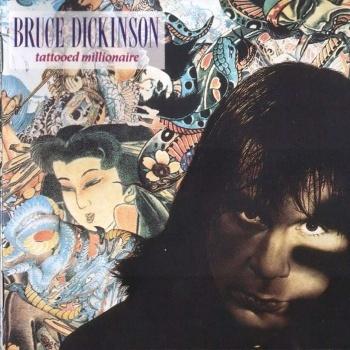 "TATTOOED MILLIONAIRE" UK CD
(EMI CDP 79 4273 2)

Iron Maiden vocalist Bruce Dickinson went solo in 1990 and formed a band with guitarist Janick Gers (ex Gillan), Fabio Del Rio and Andy Carr. "All The Young Dudes" was included on his "Tattooed Millionaire" album and it was also released as a single in the UK and across Europe.
Bruce Dickinson first performed "All The Young Dudes" in 1987 when he joined Marillion on stage at Wembley Arena, backed by Dale Griffin on drums. See separate entry.
---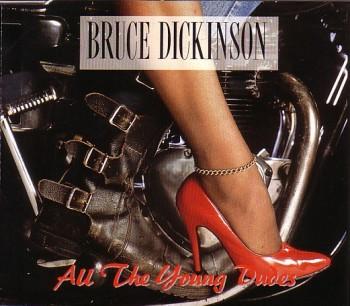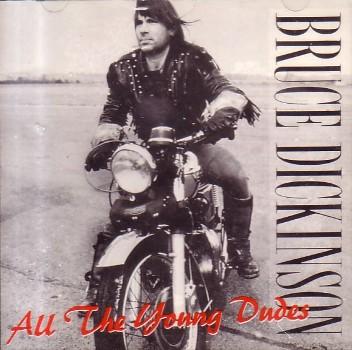 "ALL THE YOUNG DUDES" UK CD-single
- with non-LP "Darkness Be My Friend" and "Sin City" (EMI CDEM 142) | pictured far left

"ALL THE YOUNG DUDES" USA promo CD-single
- (Columbia CSK 2145) | pictured left
---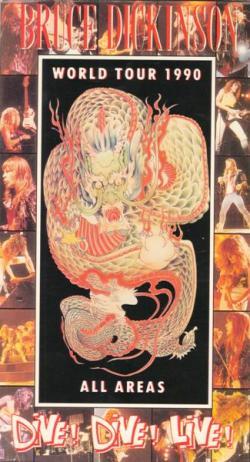 "DIVE! DIVE! LIVE!" UK VHS video (1991)
(Picture Music MVN 9912713)

Bruce Dickinson released a concert video in 1991, filmed at the Town & Country Club in Los Angeles, California on 14 August 1990. The set-list included all the "Tattooed Millionaire" songs, except for the non-album "Darkness Be My Friend" from the "All The Young Dudes" single. It also added cover versions of Deep Purple and AC/DC songs.

"Dive! Dive! Live!" was originally available only on video, but the concert has since been released as disc 1 on "Anthology", a 3 disc compilation DVD of Bruce Dickinson solo concerts and promo videos from 2006. Disc 3 includes the "All The Young Dudes" promo video directed by Storm Thorgerson.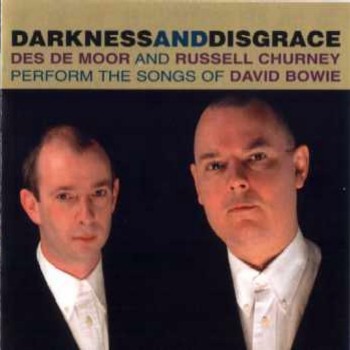 "DARKNESS AND DISGRACE" UK CD
(Irregular Records IRR051)

Des de Moor and Russel Churney's "Darkness and Disgrace" album is subtitled 'perform the songs of David Bowie'. The duo originally performed their stripped down arrangements of Bowie's songs for a music theatre piece, and this CD is effectively a studio recording of their stage show.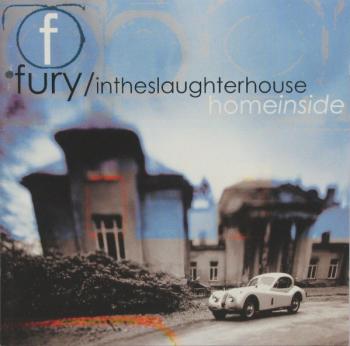 "HOME INSIDE" Germany CD
(EMI 7243 5 25872 0 9)

The German rock band Fury in the Slaughterhouse were formed in 1987 by brothers Kai Uwe Wingenfelder (vocals) and Thorsten Wingenfelder (guitar, vocals) in Hanover. They recorded their 10th album "Home Inside" with Rainer Schumann (drums), Christof Stein (guitar) and Christian Decker (bass).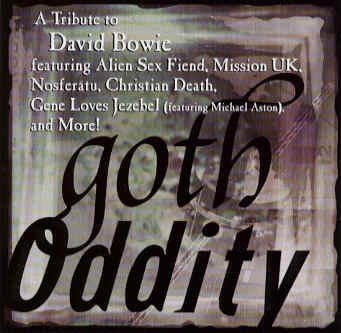 VARIOUS ARTISTS: "GOTH ODDITY" US CD
(Cleopatra CLE428)

Gene Loves Jezebel (featuring Michael Aston) covered "All The Young Dudes" on this compilation CD subtitled 'a tribute to David Bowie'. James Stevenson from Gene Loves Jezebel also recorded "All The Young Dudes" with Children Of The Revolution.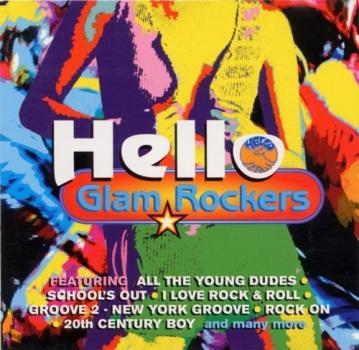 "GLAM ROCKERS" UK CD
(Arrival SPIN2CD)

Hello re-recorded their biggest hits plus other 'glam rock classics' for their 1996 "Glam Rockers" album. Two Mott The Hoople songs were included ("All The Young Dudes" and "The Golden Age of Rock 'n' Roll"), plus songs by David Essex, David Bowie, Nazareth, Alice Cooper and Arrows.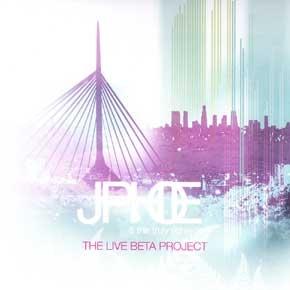 "THE LIVE BETA PROJECT" USA CD
(JP HOE Records)

"The Live Beta Project" was recorded live at the Park Theatre, Winnipeg, MB, mixed at Unison Studios and produced by Scott Stewart. Band line-up: JP Hoe (vocals, guitar), Brian James (guitar, vocals), Rob Pachol (guitar), Sandy Taronno (bass, vocals) and David Pankratz (drums).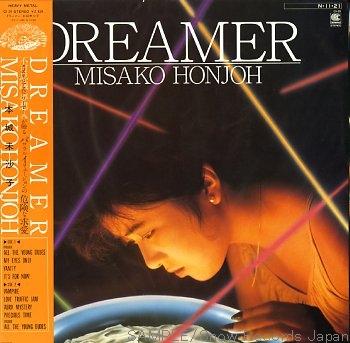 "DREAMER" Japan LP
(Continental CI-29)

Misako Honjoh's cover of "All The Young Dudes" has new Japanese lyrics by Kayoko Fuyumori, and it was included on her (long deleted) "Dreamer" album from 1984, where she was backed by Jun Aoyama (drums), Akira Okazawa (bass), Raven Ohtani (guitar) and Masanori Sasaji (keyboards).
---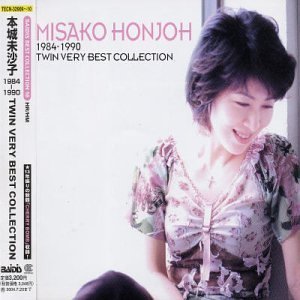 "TWIN VERY BEST COLLECTION '84-'90" Japan 2CD (2003)
(Teichiku Entertainment TECN-32909)

"All The Young Dudes" is also found on her "Twin Very Best Collection" 2CD. Misako Honjoh was one of the first Japanese metal ladies, and she enjoyed covering rock classics. This compilation also includes "House Of The Rising Sun" (Animals), "All Right Now" (Free), plus "Cherry Bomb" by the Runaways.
"ALL THE YOUNG DUDES b/w PEAR ON AN APPLE TREE" UK 7" single

Released in 1972, "All The Young Dudes" was the only single by UK glam band Honky Tonk, and quite possibly the first cover of the song. Honky Tonk was basically a studio creation by Ed Welch and he also wrote and produced the B-side, "Pear On An Apple Tree". When the single stiffed, he took his glam ideas to Teddie Palmer and The Rumble Band instead, who recorded the album "Teddy Bear" in 1974 with covers of 50's standards done in glam style under his guidance (UK Polydor 2908 016).

The Honky Tonk single was picked up by United Artists who released it all over the world:
Australia (United Artists UAK-4846) | England (UA 35422) | France (UA 35-422) | Italy (UA 35422) | Germany (UA 35 422) | Japan (Liberty LLR-10187)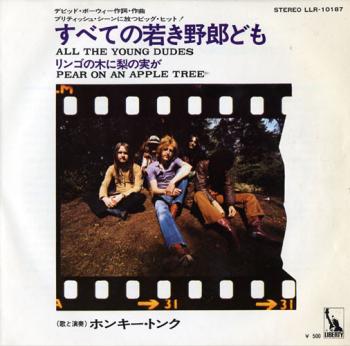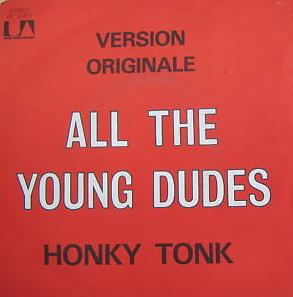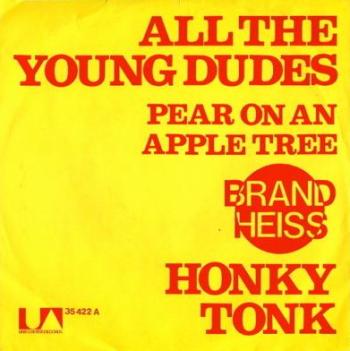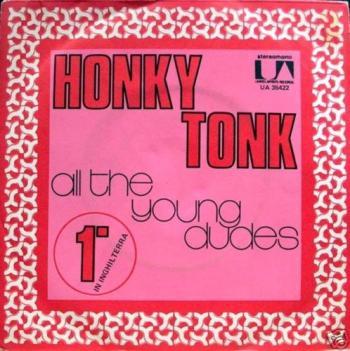 (left to right) Japan | France | Germany | Italy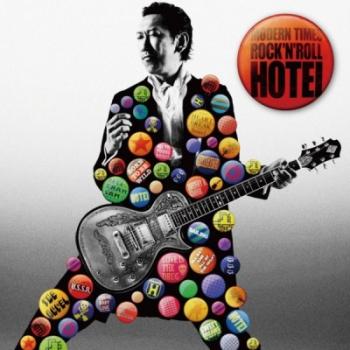 "MODERN TIMES ROCK'N'ROLL" Japan CD
(EMI TOCT-26920)

Japanese rocker Tomoyasu Hotei has covered some of his favourite songs on his album "Modern Times Rock'n'Roll", including All The Young Dudes, Born To Be Wild, Back In The USSR, All Day And All Of The Night, Love Is The Drug, Sweet Dreams (Are Made Of This), Sailing and Sugar Baby Love.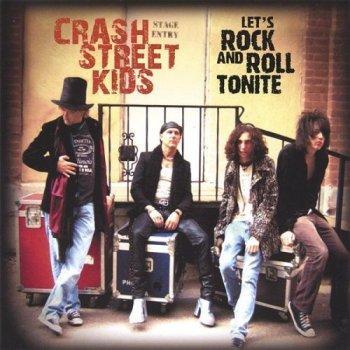 "LET'S ROCK AND ROLL TONITE" USA CD
(Hot City Recording Company)

Crash Street Kids are a glamrock/sleaze band formed in Phoenix, AZ by Ryan McKay (vocals, guitar), Ricky Serrano (guitar), Ryan Deuce (bass) and A.D. Adams (drums, vocals). Their debut album "Let's Rock and Roll Tonite" from 2005 included a live version of "All The Young Dudes".
Ryan McKay, explaining where their name came from: "That is the name of a song by one of our favorite bands, Mott the Hoople, we coined it after I got into a near fatal car accident when a drunk driver hit me head on" (from www.glitzine.net).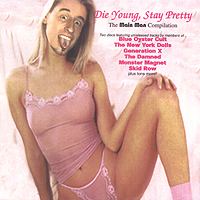 VARIOUS ARTISTS: "DIE YOUNG, STAY PRETTY" USA 2CD
(Main Man Records MMR002)

This compilation features unreleased tracks by members of Blue Oyster Cult, New York Dolls, GenX, The Damned, Skid Row and others. "All The Young Dudes" by Mutant Monster Beach Party was an outtake from their 1998 covers album "High In The Low Seventies" (Main Man Records MMR001).
Mutant Monster Beach Party are a covers band with members from Mars Needs Women, Bad Biscut, The Flu and Skid Row. Their cover versions have been used on several tribute albums, including "Hang On To Yourself", found on the 2007 David Bowie compilation "Hero" (Main Man Records MMR017).