the Mott archive
a Mott The Hoople website
with news, discographies, picture sleeve gallery and guide to cover versions for Mott The Hoople and all members and spin-off bands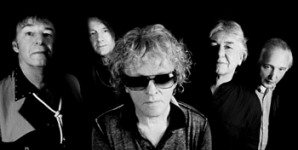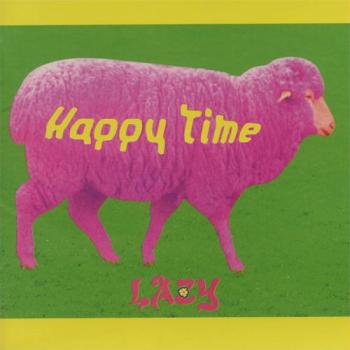 "HAPPY TIME" Japan CD
(Meldac MECB-2007)

Lazy were a powerful Japanese pop band, who existed from around 1977 until 1981. They reunited for an album (and tour) in 1998 called "Happy Time" which included covers of "All The Young Dudes", Jefferson Airplane's "Somebody To Love" and Simon and Garfunkel's "Sealed With A Kiss".
---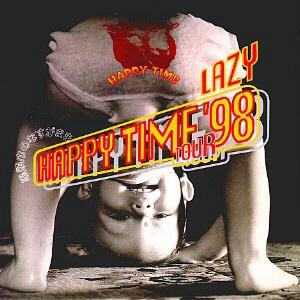 "HAPPY TIME TOUR '98" Japan CD
(Apolo AYCA-1005)

Their 1998 reunion tour was recorded and filmed, and the same title ("Happy Time Tour '98") was used for both CD and video editions, released some six months BEFORE the "Happy Time" studio album. Their version of "All The Young Dudes" featured on the live CD but was not included in the video.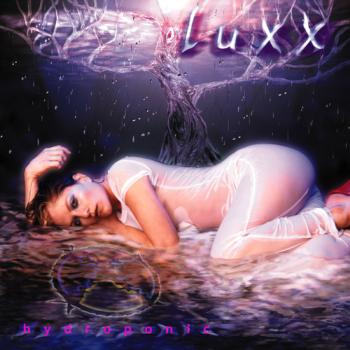 "HYDROPONIC" USA CD
(Sweet And Deep Records)

"Hydroponic" was Lyxx' second album. Except for "All The Young Dudes", it was written and produced by the band, consisting of guitarist Ian Hatton (ex Bonham), bassist Tony Fennel, drummer Dave Steele and vocalist Katrina Chester (according to some critics, A Harder Rocking Melissa Etheridge).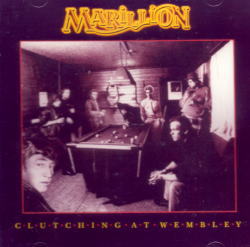 "CLUTCHING AT WEMBLEY" Japan bootleg CD
(Ayanami Records)

Marillion's concert on 05 November 1987 at Wembley Arena was advertised as 'a Royal Gala Concert with Marillion plus friends'. The friends turned out to be Nicko McBrain and Bruce Dickinson (from Iron Maiden), Jimmy Bain (Dio), John Kimble and Martin Kemp (Spandau Ballet), and Janick Gers (Gillan).
The guests joined Marillion for the encore which consisted of "The Boys Are Back In Town", "All The Young Dudes", "Gimme Some Lovin'" and "With A Little Help From My Friends". Bruce Dickinson was the vocalist on "All The Young Dudes", and he was reading the lyrics from cuecards as he sung them. Dale Griffin joined the band on drums for "All The Young Dudes" and he got a fine introduction by Bruce Dickinson. It was his first public appearance since the demise of British Lions in 1978.

The concert was broadcast on BBC without encores, but the "Clutching At Wembley" CD has a good soundboard recording of the complete show. EMI finally released the BBC broadcast on the 6CD Marillion box-set "Early Stages: The Official Bootleg Box Set 1982-1987" in 2008, but the encores were still missing.

Oh, and the Royal Gala thing? The concert was attended by His Royal Highness The Prince Edward!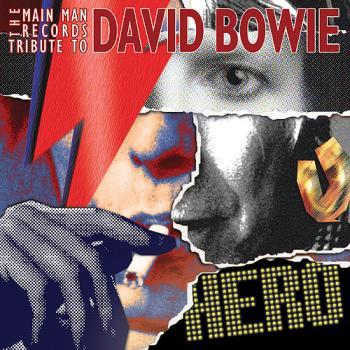 VA: "HERO - MAIN MAN RECORDS TRIBUTE TO DAVID BOWIE" USA 2CD
(Main Man Records MMR017)

This 2CD collection has more than 30 artists honoring David Bowie's 40 year career, including Earl Slick (David Bowie), Glen Matlock (The Sex Pistols), Clem Burke (Blondie), The Alarm, Rat Scabies (The Damned), Dennis Dunaway (Alice Cooper), and many more.
Mongo recorded "All The Young Dudes" especially for the album. They are a power pop band from Miami, Florida, with members Prick Livingston (vocals, keyboards), Guaro and Chix Diggit (guitar), D' Brickshaw Lipshitz (bass) and Bono Fonzarelli (drums)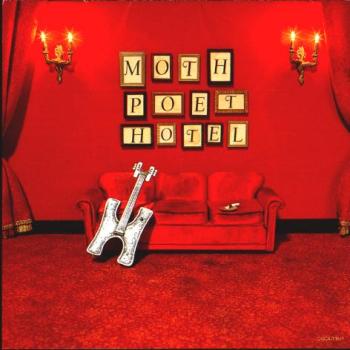 "MOTH POET HOTEL - a tribute to Mott The Hoople" Japan CD
(Triad COCA 13627)

Seven Japanese bands recorded Mott The Hoople songs for this project, compiled by Morgan Fisher. All the artists had wanted to record "All The Young Dudes", so this became a "Do They Know It's Christmas" type thing, with people from all the bands trading verses. More info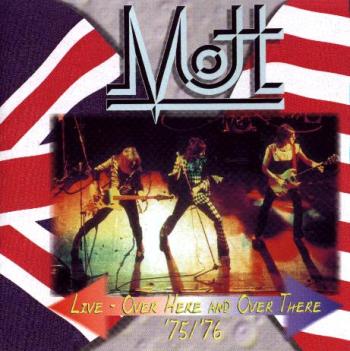 "LIVE - OVER HERE AND OVER THERE '75/'76" UK 2CD
(Angel Air SJPCD025)

Mott featured the following Mott The Hoople songs in their live set, all included on this 2CD: "Born Late '58", "All The Way From Memphis", "Rock 'n' Roll Queen", "Violence", "Sweet Jane" and "All The Young Dudes". They were recorded in Aylesbury and Leeds (UK) and in LA and Cleveland (US).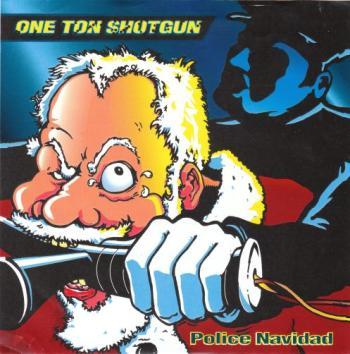 "POLICE NAVIDAD" USA CD
(Atomic Action)

This Rhode Island punk/metal band released the 7-track holiday themed "Police Navidad" mini album in 1995. The band consited of Chil Mott (vocals), Mike Fleming (drums), Mark Tomis (guitar) and Scott Shuttlesworth (bass). I guess they had to record "All The Young Dudes", with a singer named Mott!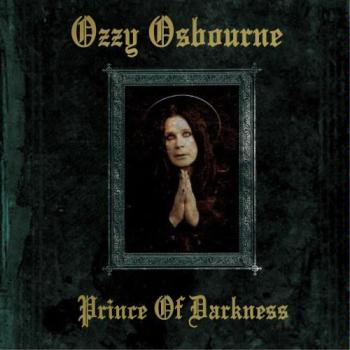 "PRINCE OF DARKNESS" USA 4CD box-set
(Epic E4K 92960)

The first two CDs in the "Prince of Darkness" 4CD box set are Osbourne's solo work (including live tracks, b-sides, demos and outtakes) and the last two CDs are duets on disc three and cover songs on disc four. An expanded version of the cover CD have since been released as a stand-alone CD.
---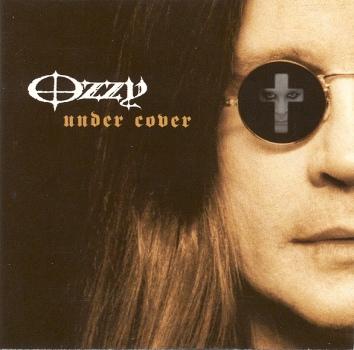 "UNDER COVER" USA CD
(Epic EK 97750)

The "Under Cover" album added "Rocky Mountain Way", "Go Now", "Sunshine Of Your Love" and "Woman" which were not on the box set edition. In most cases Ozzy brought in the original artist to help out, and Ian Hunter duets with Ozzy on "All The Young Dudes".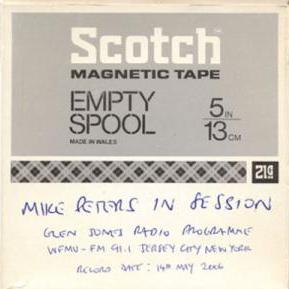 "MIKE PETERS IN SESSION" UK CD
(21st Century Records)

"Mike Peters In Session" includes an acoustic version of "All The Young Dudes" recorded 14 May 2006 for the Glen Jones radio show (WFMU studio, Jersey City, NY). It was free CD that could be obtained by purchasing any two items from www.thealarm.com in the run up to the 2006 holiday season.
Mike Peters also recorded "All The Young Dudes" back in 2000 with his other band Children Of The Revolution. In 2006 he covered "Saturday Gigs" with The Alarm.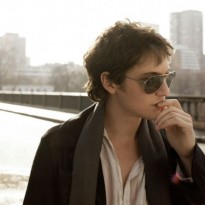 "LES INEDITS ET LES REPRISES" mp3 download
(radio broadcast)

Raphael Haroche recorded a version of "All The Young Dudes" backed by pianist Richard Lornac for "Le Fou du Roi" on French radio (France Inter, studio Charles Trenet, Maison de la Radio, Paris, France). The song was only available in mp3 format to fanclub members.
"PUNK PRIMA DI TE" Italy CD
(Anyway ANW 516222 2)

Enrico Ruggeri and his band recorded an album of punk and rock classics at Studio Penelope in Milano, Italy in 2004, mixing songs by The Clash, Sex Pistols and The Stranglers with "All The Young Dudes", "The Jean Genie" and "Sweet Jane" by Mott, Bowie and Velvet Undergroud.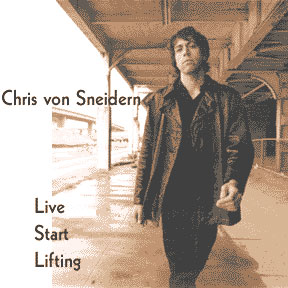 "LIVE START LIFTING" USA CD
(Mastromonia MCD-003)

Chris von Sneidern recorded "All The Young Dudes" live at the Make-Out Room in Los Angeles on 25 October 1999, backed only by Chuck Prophet (ex Green On Red) on lead guitar. It was included with his "Life Start Lifting" compilation of live recordings captured in LA during 1999 and 2000.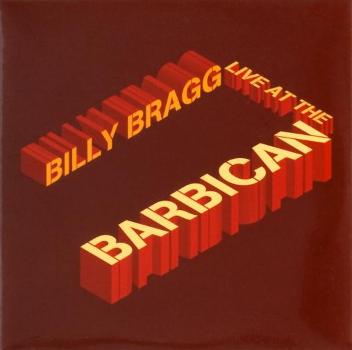 BILLY BRAGG: "LIVE AT THE BARBICAN" UK 2CD
(Billy Bragg BB5110 CD)

Singer/songwriter Jill Sobule supported Billy Bragg on his 2004 UK tour, and her cover of "All The Young Dudes" is included on the Billy Bragg live album recorded at the Barbican in London on 29 March 2004, released on CD in 2006. It was originally released in 2005 as download-only album.
TRIVIA ALERT #1! The "Clueless" motion picture soundrack album from 1995 not only included Jill Sobule's hit song "Supermodel" - it also included the World Party's cover of "All The Young Dudes"! I hasten to add that "All The Young Dudes" has been a regular in Jill's live set for many years, so this is just a coincidence!
TRIVIA ALERT #2! The "Live At The Barberican" album also includes the Billy Bragg song "Waiting For The Great Leap Forwards" with quotes from "All The Way From Memphis": "It's a mighty long way down rock 'n roll, From Top of the Pops to drawing the dole, You're Waiting for the Great Leap Forwards". It was originally released on his "Workers Playtime" 1988 album (Go! Discs AGOCD 15).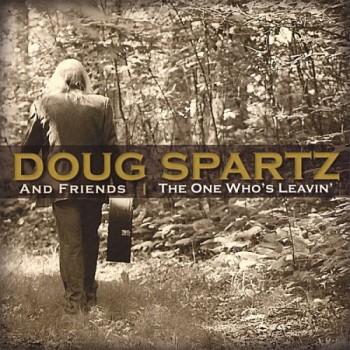 "THE ONE WHO'S LEAVIN'" USA CD
(Great North Music/DMG 789577545328)

Doug Spartz is a veteran on the US Americana scene, known for mixing bluegrass, blues, rock and country on his records. His 2007 release is no exception, and the 20 track album has a fine mix of some of Doug's new music and also some songs that he had wanted to record for a long time.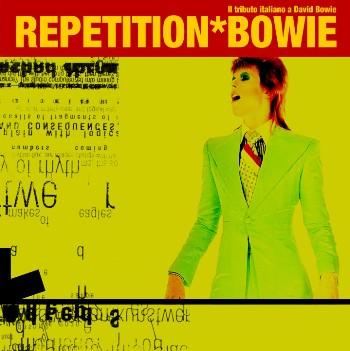 "REPETITION BOWIE" Italy mp3 CD
(no label)

The "Repetition Bowie" project allowed bands without a record contract to submit studio recordings of David Bowie songs. By 2007 they had more then 50 contributions, and 18 of these were released by Midfinger Records in Italy on an album called "Repetition Bowie".
The songs that didn't make the CD could be downloaded from the label at www.repetitionbowie.com along with a custom made cover. A band called Strange Fruits submitted several contributions, including "All The Young Dudes". UPDATE December 2010: The Strange Fruits cover is still available for download, along with a new cover of the song by Italian cover band Ziggy and the Glass Spiders.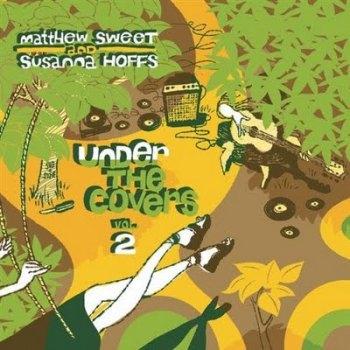 "UNDER THE COVERS VOL. 2" USA CD
(Shout! Factory 26663 11306)

Volume 2 in Matthew Sweet & Susanna Hoffs' "Under The Covers" series is dedicated to the 70s, and includes 16 songs by The Grateful Dead, The Raspberries, Fleetwood Mac, Derek & The Dominoes, Tom Petty, Yes, Mott and others. Another 10 songs were available for digital download only.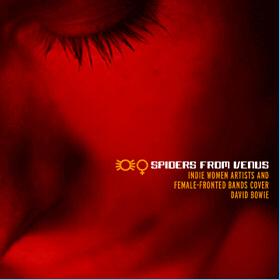 VARIOUS ARTISTS: "SPIDERS FROM VENUS" USA CD
(Skipping Discs no3)

This 2004 release, subtitled 'Indie Women Artists and Female-Fronted Bands Cover David Bowie', was put together and released by Skipping Discs in Massachusetts. The 19 songs are spanning Bowie's career from "Space Oddity" to "Heathen" and has a 1972 David Bowie coverphoto by Mick Rock.
Switchblade Kittens are a female indieband from Los Angeles with a male bass player and they recorded a fine version of "All The Young Dudes" for this collection. They also contributed to the compilation CD "Blockbuster: A Glitter Glam Rock Experience" in 2000 with a cover of "Can The Can" by Suzi Quatro, so they obviously love their glam and glitter!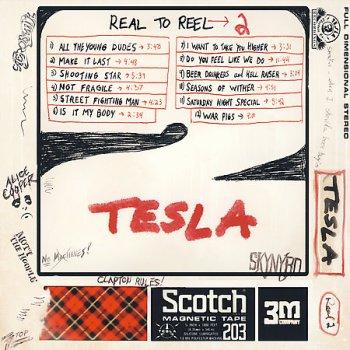 "REAL TO REEL 2" USA CD
(Tesla Electric Company Recordings TECR 002)

Tesla released a covers album called "Real To Reel" in 2007 with songs by 70s hard rock bands. The CD came with a slot for "Real To Reel 2", a second CD which was given out for free to fans buying tickets for Tesla's summer tour starting 07 June 2007 (it was housed in jewel case with no cover).
The US edition of "Real To Reel 2" has 12 cover versions, including songs by Bad Company, Alice Cooper, ZZ Top, Bachman Turner Overdrive, Rolling Stones and Black Sabbath to name a few. When the tour finished in September a digipak edition was officially released to retail stores.
---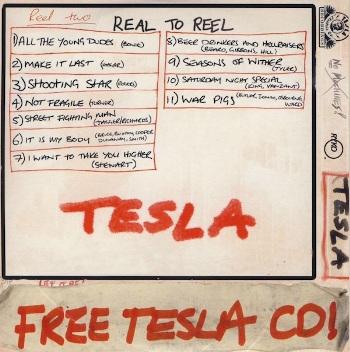 "REAL TO REEL 2" UK CD
(Classic Rock ROC109-09-07)

UK fans also got "Real To Reel 2" for free as it was given away with the August 2007 issue of Classic Rock Magazine. Note that the magazine edition only has 11 tracks, the band's cover of Peter Frampton's "Do You Feel Like We Do" was only available in USA.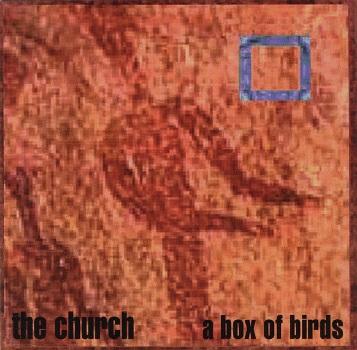 "A BOX OF BIRDS" USA CD
(Thirsty Ear THI 57073.2)

Australian band The Church looked outside the singles charts for material for their 70s covers collection (except for Mott The Hoople and Hawkwind) and their "A Box Of Birds" album included songs by the SABH, George Harrison, Ultravox, The Monkees, Kevin Ayers, Iggy Pop, Television, and Neil Young.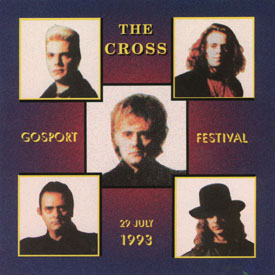 "GOSPORT FESTIVAL 93" UK bootleg CD
(no label)

Roger Taylor formed The Cross while Queen were on hiatus in 1986, with Spike Edney, Jamie Moses and Peter Noone. They released three albums but never had any commercial success. One of their last ever gigs, at Walpole Park in Gosport, UK on 29 July 1993 was later released on bootleg.
Their Gosport set included "All The Young Dudes", and keyboard player Spike Edney continued to perform the song with his next band, the Spike Edney All Stars (or the SAS Band for short). When the SAS Band performed "All The Young Dudes" at the Cozy Powell Tribute Concert on 01 May 1999, they were joined on stage by Brian May and Roger Taylor. Recordings from this show are also in circulation, but have not been given a 'proper' release (I will not include selfmade bootlegs in this section).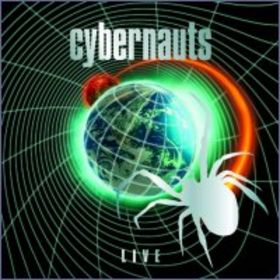 "CYBERNAUTS LIVE" Japan CD
(Universal UICE-1006)

The Cybernauts were a collaboration between Joe Elliott & Phil Collen (Def Leppard) and Trevor Bolder & Woody Woodmansey (ex David Bowie). They first performed together at the 1994 Mick Ronson Memorial Concert in London (billed as Joe Elliott and the Spiders From Mars).
They commenced working together in 1997, and their Dublin concert on 07 August 1997 was recorded and later only released in Japan (in December 2000). The live album consisted entirely of songs originally recorded by David Bowie and Mick Ronson, including "All The Young Dudes".
---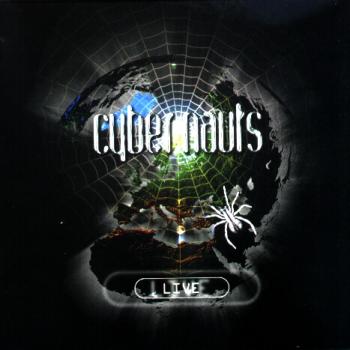 "LIVE/THE FURTHER ADVENTURES OF THE CYBERNAUTS" UK 2CD
(Arachnophobia Records ASO 2001 )

The Cybernauts also cut several studio versions of Bowie songs back in 1997, and recorded more whilst on tour in Japan in January 2001 in support of the "Live" album. These studio tracks were released later that year, as a bonus disc with the international edition of "Cybernauts Live".
"All The Young Dudes" was one of the seven studio tracks on the bonus disc (eight actually, "Moonage Daydream" was a hidden bonus track) which was labeled "The Further Adventures Of The Cybernauts". This 2CD edition was a limited release however, only available by mail order from the band's website while stocks lasted.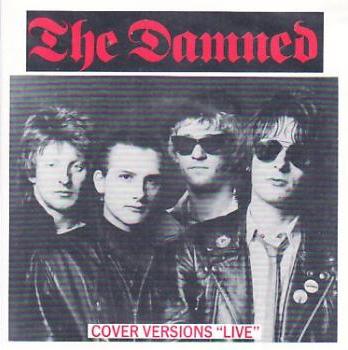 "COVER VERSIONS LIVE" UK 7" bootleg single
(Legend LD-601)

This bootleg vinyl single from 1987 has live versions of some of the Damned's favourites: "Rich Kids" (rICH kIDS), "Ruby" (Kenny Rogers), "Get It On" (T. Rex), "Sharp Dressed Man" (ZZ Top), "Black Night" (Deep Purple), "Overkill" (Motorhead) and "All The Young Dudes". Unknown recording dates.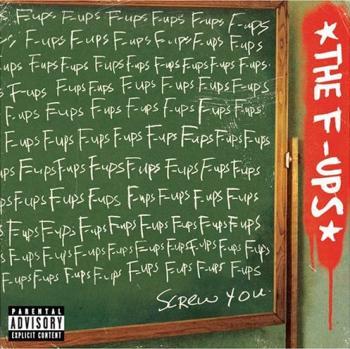 "THE F-UPS" USA CD
(Capitol/EMI 98236)

The Fuck-Ups from Minnesota recorded "All The Young Dudes" for their self-titled debut album in 2004. The band consited of Travis Allen, Chris deWerd, Andy Collett and Taylor Nogo, but broke up in 2006. Their producer and mentor was Brynn Arens (ex Flipp, Funhouse).
TRIVIA ALERT! Brynn Arens was (and still is!) a big Mott The Hoople fan, and he most likely introduced the band to "All The Young Dudes". Which leads me to Brynn's latest band, American Standard, formed with former TKO vocalist Brad Sinsel around 2008. Brad is also a big Mott The Hoople fan, and he actually covered "One Of The Boys" with TKO back in 1986! A coincidence? I think not!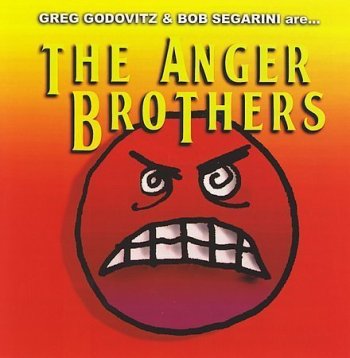 "THE ANGER BROTHERS" Canada CD
(Bullseye Records BLR-CD-4065)

The Anger Brothers were Greg Godovitz (vocals, guitar), Bob Segarini (vocals, percussion), Brad Lovatt (vocals, piano), Steve Jensen (guitar), Mike Pellarin (bass) and Doug Inglis (drums, percussion). The 2005 reissue of their 2002 debut included "All The Young Dude" as one of the bonus tracks.
Greg Godovitz (Fludd, Goddo) and Bob Segarini (Wackers, Dudes) formed the Greg Godovitz Orchestra & Chorus as a cover band to perform classic British Invasion songs. Their 2002 release was credited to The Anger Brothers however, and was a mix of original and covers. For the 2005 re-issue, even more cover versions were added, bringing the total number of tracks to 23!

TRIVIA ALERT! Bob Segarini was an old friend of Ian Hunter, and he sang backing vocals on Hunter's "All American Alien Boy" album. His mid 70s band Dudes was originally called All The Young Dudes, named after the Mott song.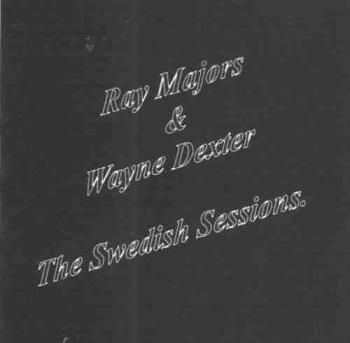 "THE SWEDISH SESSIONS" Sweden CD
(BMA Records)

Ray recorded his first solo album in Sweden in 1995 for BMA Records and returned for overdubs in 1999. The album was a mix of studio and live recordings. "All The Young Dudes" and "All The Way From Memphis", plus "International Heroes" by British Lions were among the live tracks.
Ray was backed by the BMA house band Wayne Dexter, who also have recorded albums with Eric Bell Band, The Pirates and Huw Lloyd-Langton, among others. The Ray Majors album was sadly never released but promotional copies does exist.