the Mott archive
a Mott The Hoople website
with news, discographies, picture sleeve gallery and guide to cover versions for Mott The Hoople and all members and spin-off bands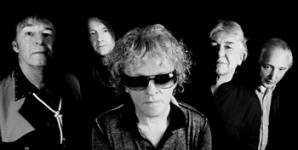 Bad Company
Bad Company formed when vocalist Paul Rodgers (ex-Free) teamed up with Mott The Hoople guitarist Mick Ralphs in 1973. The duo recruited former King Crimson bassist Boz Burrell and Free drummer Simon Kirke. They were managed by Led Zeppelin manager Peter Grant and signed with Zeppelin's Swan Song label. Bad Company became a worldwide hit, and they were probably one of the biggest bands to come out of the 70s. The band eventually disbanded when Paul Rodgers decided to go solo in 1982. Mick Ralphs said, "Paul wanted a break and truthfully we all needed to stop. Bad Company had become bigger than us all and to continue would have destroyed someone or something. From a business standpoint, it was the wrong thing to do, but Paul's instinct was absolutely right".
Mick Ralphs and Simon Kirke decided to reteam for a new project in 1985, but their label, Atlantic Records, insisted they resume the Bad Company name. Paul Rodgers was unwilling to join so Ralphs and Kirke partnered with ex-Ted Nugent vocalist Brian Howe as the new lead singer. This was also a successful period for the band, especially in the US where they had several top 40 hits. But friction within the band led to Howe leaving in 1994.
After Howe's departure, Robert Hart was asked to join the band, and Dave Colwell (guitar) and Rick Wills (bass) became permanent members as well. Colwell had played with the band since 1991 as second guitarist. This line up released two albums which didn't do much and split up in 1998 when Paul Rodgers returned to the fold.
The 1999 album "The Original Bad Company Anthology" included four newly recorded tracks by the original Mk1 line-up. The same year the band did a 32 date reunion tour in the US, but after that, Ralphs announced he was retiring from live performing and Burrell left again as well bringing the reunion to an end. Paul Rodgers and Kirke however toured as Bad Company in 2001 with Colwell and Wills replacing the departed Ralphs and Burrell. Sadly Boz Burrell died in 2006.
Ralphs returned to the band in 2008, and the surviving three members were joined by Howard Leese (guitar, formerly of Heart) and bassist Lynn Sorenson for shows in 2008, 2009 and 2010. Ralphs sat out the 2010 Japan dates, but did all the others. Bad Company also toured in 2012, 2013 and 2014, with several of their shows being recorded for instant release where fans could buy copies right after the show.
Use the site index links to navigate within the Bad Company section. I welcome your comments, additions or corrections!