the Mott archive
a Mott The Hoople website
with news, discographies, picture sleeve gallery and guide to cover versions for Mott The Hoople and all members and spin-off bands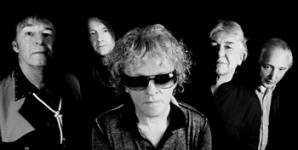 Ian Hunter
When he joined Mott The Hoople in 1969, Ian Hunter Patterson had already been semi-pro for ten years, starting out as a bass player with Northampton based The Apex in the late 50s before going solo as Hurricane Henry and the Shriekers in the early 60s. This band became Freddie Fingers Lee and the Shriekers when Freddie joined them in 1964, and they recorded "The Friendly Undertaker" in 1965 which was credited to Freddie 'Fingers' Lee as a solo artist. This was Ian's first appearance on record.
Ian next teamed up with Miller Anderson in The Scenery and they recorded some material with Bill Farley at Regent Sound in 1967 which were released on single in Japan and France only. In 1968, Ian and Miller joined Freddie 'Fingers' Lee in At Last the 1958 Rock and Roll Show. The band released one single ("I Can't Drive") before changing their name to Charlie Woolfe and releasing a second single ("Dance Dance Dance"). The B-side was "Home", co-written by Ian. This was not Ian's first writing credit though. Ian had joined music publishers Francis, Day, and Hunter (no releation) a year earlier and Dave Berry had recorded Ian's composition "And I Have Learned To Dream" in 1967.
Ian joined Mickie Most's New Yardbirds when Charlie Woolfe split up in late 1968, but this band never made it past rehearsal stage. Ian continued working for publishers Francis, Day, and Hunter, and later, Leeds Music, but he left them when he joined Mott The Hoople in the summer of 1969, having successfully auditioned for the band at Bill Farley's Regent Sound Studios on June 5th.
The rest, as they say, is history. After five years with Mott The Hoople, Ian embarked on a solo career that is still going strong. He recorded his first album in 1975 aided by Mick Ronson and they worked together on and off until Mick sadly died in 1994. Since then Ian has worked with Ricky Byrd (ex Joan Jett), Darrell Bath (ex UK Subs) and Andy York (John Mellencamp) to name but a few.
Use the site index links to navigate within the Ian Hunter section, or to check out the pages for Mott The Hoople and its band members. I welcome your comments, additions or corrections!