the Mott archive
a Mott The Hoople website
with news, discographies, picture sleeve gallery and guide to cover versions for Mott The Hoople and all members and spin-off bands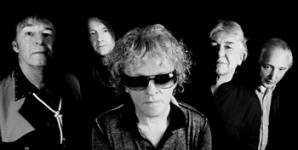 Spooky Tooth
Spooky Tooth formed in October 1967, out of a combination of The Ramrods (1960 - late 1963), The V.I.P.'s (late 1963 - April 1967) and Art (April - October 1967). The line-up of Art consisted of Mike Harrison (keyboards/vocals), Greg Ridley (bass guitar), Luther Grosvenor (guitar) and Mike Kellie (drums). With the addition of Gary Wright (organ/vocals) the band became Spooky Tooth and released two albums, "It's All About" and "Spooky Two".
Ridley joined Humble Pie in 1969 and was replaced by Andy Leigh who went on to Matthews Southern Comfort with ex-Fairport Convention vocalist Ian Matthews. The third Spooky Tooth album was "Ceremony", recorded with French avant garde musician Pierre Henry. The experimental nature of "Ceremony" received mixed reviews and following its release Wright also bowed out. The core of Harrison, Grosvenor and Kellie struggled on for one more album, aptly titled "The Last Puff", completed with friends from Joe Cocker's Grease Band.
The band broke up after a European tour in the autumn of 1970 that was undertaken with a lineup of Harrison, Grosvenor, Kellie, keyboardist John Hawken (ex-Nashville Teens) and bassist Steve Thompson. After solo efforts, Harrison and Wright reformed Spooky Tooth in September 1972 with a different (and frequently changing) line-up. The best known member of these line-ups (March 1973 - September 1974) was Mick Jones (guitar/vocals), later of Foreigner. From February to May 1974, Mike Patto (vocals) replaced Harrison for the 1974 release "The Mirror". The group then split again in September 1974.
Some 20+ years since they last worked together, Harrison, Kellie, Grosvenor and Ridley reunited in 1997 to record the album "Cross Purpose" (released in 1999). Gary Wright was not involved in these sessions, but When Greg Ridley passed away in the spring of 2004, Wright and Harrison decided to reunite with drummer Mike Kellie in Greg's honor for a series of special concerts in Germany. They also toured Europe in 2008 (with Kellie) and 2009 (without Kellie), and performed at Island Records 50th Anniversary in London on 29 May 2009.
Use the site index links to navigate within the Spooky Tooth section, or to check out the individual pages for the band members. I welcome your comments, additions or corrections!