the Mott archive
a Mott The Hoople website
with news, discographies, picture sleeve gallery and guide to cover versions for Mott The Hoople and all members and spin-off bands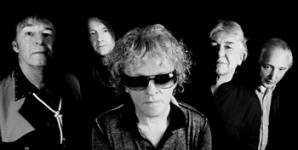 MICK RALPHS discography
Having recorded his first session with the Buddies in 1964, it took Mick Ralphs 20 years to make "Take This!", his first solo album. This 1984 release was followed by "It's All Good" (2001) and "That's Life - Can't Get Enough" (2003). Mick is still active as a solo artist, and formed the Mick Ralphs Blues Band in 2011. He toured with Ian Hunter in 2002 and reformed and toured with Bad Company in 2008, 2010 and 2016 - and with Mott The Hoople in 2009 and 2013.

This discography details Mick Ralphs' solo releases plus his collaborations and session work. His work with Doc Thomas Group, Mott The Hoople and Bad Company have separate entries in the main site index.

Quick links: solo releases | Mick Ralphs Blues Band | Bronco | Hackensack | Luther Grosvenor | Gerry Lockran | Amazing Blondel | Ian Thomas | Lonnie Donegan | Midnight Flyer | The Who | Jon Lord | Wildlife | Mott | Jim Capaldi | George Harrison | Ken Hensley | Alvin Lee | Paul Rodgers | Simon Kirke | SSHH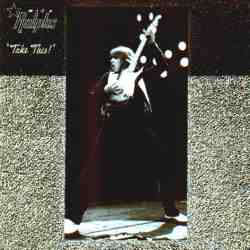 (1) "TAKE THIS!" UK LP | 1984
(Rock Machine MACH 3)

(2) "TAKE THIS!" UK CD | 1998
(Angel Air SJPCD037)

In 1995, Griffin Music in USA issued a 10 track CD edition (same as LP)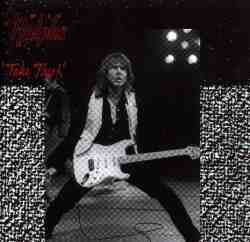 Tracklisting LP: All It Takes / Hey Baby / Take This / Give You My Love / Fast Travelling Man / On The Run / Last Chance Saloon / Rock Fever / When The Revolution Comes / Another Lonely Day

1998 CD bonus tracks: Rock N Roller / All Across The Nile / All It Takes / Give You My Love / On The Run / Last Chance Saloon / When The Revolution Comes / Another Lonely Day / Rock N Roller / All Across The Nile
Mick recorded this album when Bad Company broke up in the early 80s. It was only available in the UK initially, but Griffin Music made it available on CD in USA in 1995 (Griffin Music GCD-356-2). Angel Air added 10 bonus tracks when they released it in 1998.
---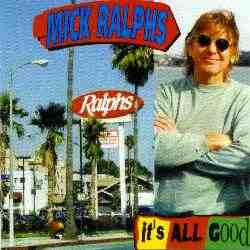 "IT'S ALL GOOD" UK CD | 2001
(Angel Air SJPCD052)

Tracklisting: S.E.X / Barking Mad / Don't Need Money / Jessica / Hideaway / Jazz-Wah / Train Wreck / Large! / Atmosphere / Gravy Booby / Coming Up The Hill / More S.E.X.

All the songs are new Mick Ralphs solo recordings, except "Hideaway" which is a previously unreleased Bad Company live recording from the 1999 USA tour.
---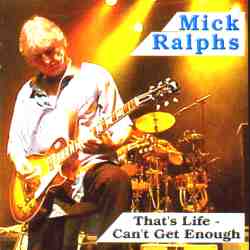 "THAT'S LIFE - CAN'T GET ENOUGH" UK CD | 2003
(Angel Air SJPCD136)

Tracklisting: Under Pressure / For My Baby / Our Time / A to Z / You And Me / Hey Hey / Everybeat / Nobody Knows Me / Ain't It Good? / Fool For Your Loving / That's Life / Budgie / Can't Get Enough

"Budgie" is an unreleased Bad Company track from 1977. "Can't Get Enough" is a 1970 demo of the song that went on to become Bad Company's biggest hit.
---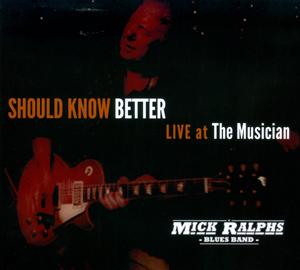 "SHOULD KNOW BETTER (Live at The Musician)" UK CD | 2013
(Unruly Records UNRULYCD003)

Tracklisting: Should Know Better / Born Under A Bad Sign / Just A Little Bit Of Your Love / Shame Shame Shame / Evil / Well Connected / Big River
Recorded at The Musician in Leicester on 02 November 2012

Mick reportedly formed The Mick Ralphs Blues Band with musicians he met while guesting at a jam session: Stuart Son Maxwell, harmonica/vocals | Jim Maving, guitar | Sam Kelly, drums | Dickey Baldwin, bass. The album has a fine mix of new songs written by the band plus standards.
---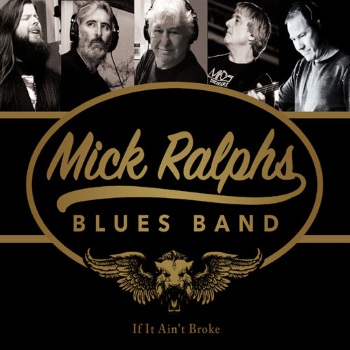 "IF IT AIN'T BROKE" UK CD | 2016
(Mick Ralphs Blues Band MRBB 001)

Tracklisting: I Don't Care / Shakey Ground / Talk To Your Daughter / Lil Bit / Nothing's Gonna Stop Me Now / Same Old Blues / Too Bad / Roll The Dice / Well Connected / Going Down


Two line-up changes in the band for this Mick Ralphs Blues Band's first studio album: Adam Barron is the new vocalist and Damon Sawyer plays drums. Jim Maving is back on guitar alongside Dickey Baldwin on bass.
---
songs on various artists sampler albums:
---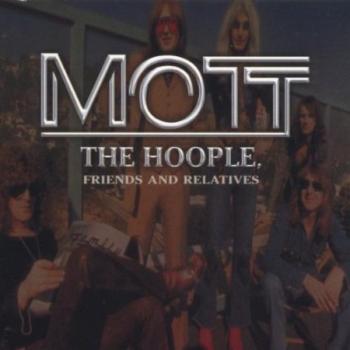 MOTT THE HOOPLE - "Friends And Relatives" UK 2CD | 1999
(Eagle EAGCD 104)

Includes Mick Ralphs: All Across The Nile / Take This. This excellent 2CD set has 25 tracks by Mott The Hoople, Mott, Verden Allen, Ray Majors, Morgan, The Silence, The Rats, John Fiddler, Overend Watts, Steve Hyams, Mick Ralphs and Doc Thomas Group, all licenced from Angel Air's catalogue
---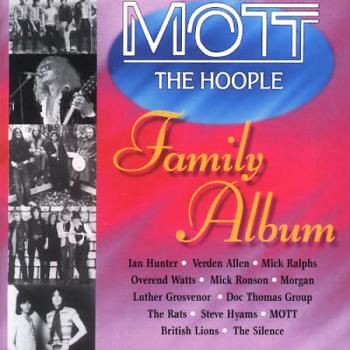 MOTT THE HOOPLE - "Family Album" UK CD | 2000
(Connoisseur VSOP CD283)

Includes Mick Ralphs: Rock 'n' Roller. A year later, Connoissseur issued a similar compilation CD featuring Mott The Hoople, Mott, British Lions, Verden Allen, Morgan, The Silence, The Rats, Steve Hyams, Mick Ralphs and Doc Thomas Group. No tracks were duplicated on the two releases.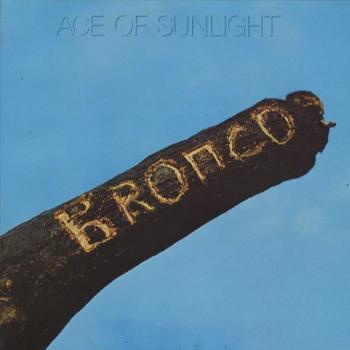 "ACE OF SUNLIGHT" UK LP | 1971
(Island ILPS 9161)

Bronco vocalist Jess Roden sang back-up on Mott's "Wildlife" LP, and Ian Hunter, Mick Ralphs and Verden Allen returned the favour on Bronco's second album "Ace of Sunlight". Hunter/Ralphs played on "Amber Moon", while Verden was on the track "Discernible".
Tracklisting: Amber Moon / Time Slips Away / Some Uncertainty / Woman / New Day Avenue / Discernible / Sudden Street / Joys And Fears

Other collectable editions: US LP: Atlantic 9309 | UK CD (2010): BGO Records BGOCD [in a set together with their 1970 album "Country Home"]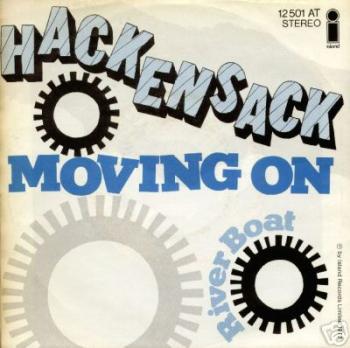 "MOVING ON" Germany 7" single | 1972
(Island 12501 AT)

Hackensack supported Mott The Hoople on the "Rock N Roll Circus" tour in 1972, and recorded "Moving On" shortly after. The song was written by Mick Ralphs, who also played lap steel on Hackensack's version. The single was also released in England without picture sleeve (Island WIP-6149).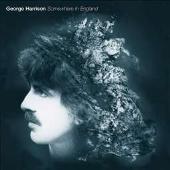 "SOMEWHERE IN ENGLAND" mp3 album | 2008 re-issue
(EMI Records)

Tracklisting: Blood from a Clone / Unconsciousness Rules / Life Itself / All Those Years Ago / Baltimore Oriole / Teardrops / That Which I Have Lost / Writings on the Wall / Hong Kong Blues / Save the World / Save the World (Acoustic Demo Version) / Flying Hour
"Flying Hour" was dropped from Harrison's "Somewhere In England" album in the last minute. A remastered CD was released in 2004, still without "Flying Hour" - but when the remastered edition was made available on iTunes for the first time in 2008, the digital version featured "Flying Hour" as one of the bonus tracks!

"Flying Hour" is a song co-written by George Harrison and Mick Ralphs, and it was previously only available on a 1988 vinyl EP called "Songs by George Harrison" that accompanied a limited edition coffee-table book with the same name.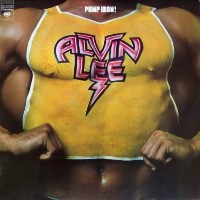 "PUMP IRON" Germany CD | 1998 re-issue
(Repertoire 4703)

Tracklisting: One More Chance / Try To Be Righteous / You Told Me / Have Mercy / Julian Rice / Time And Space / Burnt Fungus / Darkest Night / It's All Right Now / Truckin' Down The Other Way / Let The Sea Burn Down / Madness / Midnight Special
"Midnight Special" featuring Mick Ralphs, Boz Burrell and Tim Hinkley was one of two bonus tracks on the 1998 CD re-issue of "Pump Iron", originally released in 1975. The other was "Madness".

Alvin Lee: "I recently did a bonus track called "Midnight Special" for the "Pump Iron" CD, it was a big jam at Hookend with Mick Ralphs, Boz Burrell and Tim Hinkley. I came across the multi track a few years ago and put a vocal on it which sounded great. I later decided that the guitar solos were a bit weak and put new guitar solos on. So that track took 21 years to record! I did it with Stuart Epps as the engineer and it sounds great - like it was all done at the same time."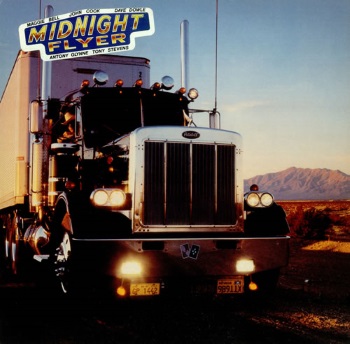 "MIDNIGHT FLYER" UK LP | 1981
(Swan Song SSK 59412)

Tracklisting: Hey Boy / Love Games / French Kisses / In My Eyes / Over And Over / Last Resort / Do You Want My Love / Sweet Loving Woman / What Ever I Want / Midnight Love / Rough Trade

Midnight Flyer consisted of Maggie Bell, Dave Dowle, Antony Glynne, Tony Stevens, John Cook and Chris Parren, and Mick Ralphs produced their eponymous debut album. Angel Air's 2005 CD re-issue (Angel Air SJPCD198) added two non-LP tracks from a US only single ("Rock 'n' Roll Party" and "Waiting For You"). The single was produced by the band and has no Mick Ralphs involvement.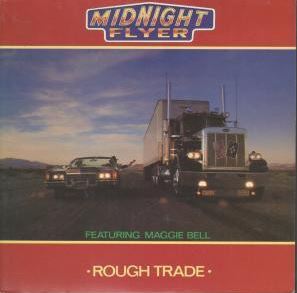 1981 7" singles produced by Mick Ralphs:

- UK: Rough Trade / Midnight Love (Swan Song SSK 19423) | pictured right
- US: In My Eyes / Midnight Love (Swan Song SS 72001)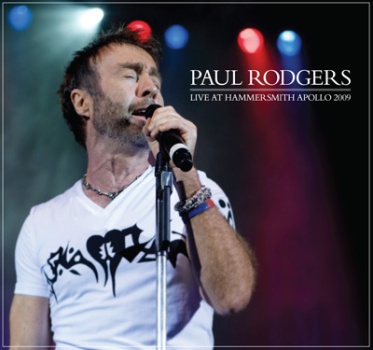 "LIVE AT HAMMERSMITH APOLLO 2009" UK 3CD | 2009 (Concert Live)

Tracklisting: Walk in my Shadow / Fire and Water / Ridin' On A Pony / Soon I Will Be Gone / The Stealer / Voodoo / Runnin' With The Pack / Wishing Well / Satisfaction Guaranteed / Be My Friend / Rock 'n' Roll Fantasy / Shooting Star / All Right Now / Saving Grace / Can't Get Enough / Little Wing // CD3 is a data disc with photos and video footage from the night
'Concert Live' created an instant live recording of Paul Rodgers' London concert at Hammersmith Apollo on 06 November 2009 and made it available for purchase within minutes after the show finished! Mick Ralphs and Debbie Bonham joined Paul Rodgers for the encores. The 3CD set was also available by mail order from 'Concert Live'.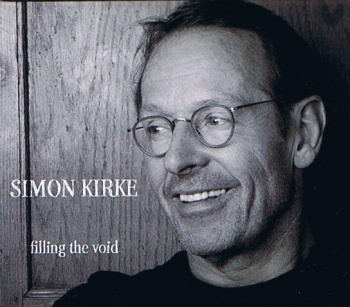 "FILLING THE VOID" USA CD | 2011 (Megaforce Records)

Tracklisting: Filling The Void / I Want You Back / Message From The Lost / Angel In My Eyes / Over There / Jaunty Sarcasm / Melting On Madison / Fly To Your Side / Make Up Your Mind / Talk To The Hand / Going Home / One Day Closer To You
"Filling The Void" is Free and Bad Company drummer Simon Kirke's first proper solo album. Guest musicians includes organist Jeff Kazee of Southside Johnny and the Asbury Jukes fame, guitarist G.E. Smith, saxophonist Art Hays, guitarist Steve Conte (New York Dolls) and bassist John Conte (Ian Hunter, Levon Helm). Kirke's fellow Bad Company bandmates Mick Ralphs and Howard Leese (also of Heart, Paul Rodgers fame) appears on "Make Up Your Mind" and "Filling The Void", respectively.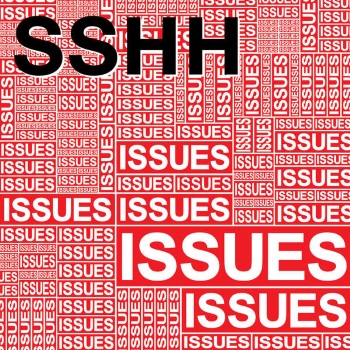 "ISSUES" UK CD | PledgeMusic (CD will be made available in 2017)

Tracklisting: Problems / Jah War / Shoot Speed Kill Light / All the Young Dudes / Dominos / One Way Or Another / Back to Black / Private Life / Get Up Stand Up / Babylon's Burning / Tin Soldier

"Issues" was released in November 2016 as a digital download only.
Singer Sshh Liguz and guitarist Zak Starkey (Ringo's son and a fine drummer himself) invited people who played on the original version of the songs they covered to join them in the studio. Mick Ralphs plays guitar on "All The Young Dudes" alongside Martin Chambers (The Pretenders, Mott The Hoople) on drums and Glen Matlock (Sex Pistols) on bass. Other guests on the album include Blondie drummer Clem Burke, The Sex Pistols' drummer Paul Cook, Primal Scream's drummer Darrin Mooney and bassist Simone Butler, Marilyn Manson's drummer Gil Sharone and bassist Twiggy Ramirez, The Big Pink frontman Robbie Furze, drummer Santa Davis of Bob Marley & The Wailers and even Pearl Jam leader Eddie Vedder for a raucous concoction of tunes from Peter Tosh & Bob Marley's iconic call to action "Get Up, Stand Up" to The Sex Pistols' "Problems" and more.