the Mott archive
a Mott The Hoople website
with news, discographies, picture sleeve gallery and guide to cover versions for Mott The Hoople and all members and spin-off bands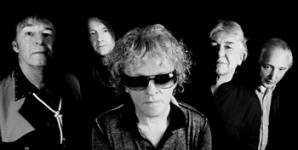 LUTHER GROSVENOR discography
Luther Grosvenor played with Spooky Tooth and Stealers Wheel before he joined Mott The Hoople, and later formed Widowmaker with Steve Ellis. Luther put down his guitar during the 80s to concentrate on his decorating business but he returned in the 90s, fronting a band called Blues 92, issued a second solo album and took part in a Spooky Tooth reunion. Luther formed the Ariel Bender Band in 2004 and released his third solo album in 2011.

This discography details Luther Grosvenor's solo albums plus his collaborations and session work. Use the site index links to navigate within the Luther Grosvenor section. His work with Spooky Tooth, Mott The Hoople and Widowmaker have separate entries in the main site index.

Quick links: solo albums | Deep Feeling | The VIPs | Art | Nirvana | Gordon Jackson | Mike Harrison | The Winter Olympics
"UNDER OPEN SKIES" UK LP | 1971
(Island ILPS 9169)

Tracklisting: Ride On / Here Comes The Queen / When I Met You / Love The Way / Waiting / Rocket / Under Open Skies / Heavy Day* / All The People*

* bonus tracks on the 2005 re-issue (previously only available on singles)
Having left Spooky Tooth in 1971, Luther recorded his debut album with assistance from Mike Kellie and John Hawken from Spooky Tooth, Chris Woods and Jim Capaldi from Traffic, Trevor Burton (Move), Mike Giles (King Crimson), Trevor Lucas (Fairport Convention) and Mick Ralphs.

Other editions: UK CD (1993): Demon/Edsel CD364 | UK CD w/bonus tracks (2005): Gott GOTTCD019 | Canada LP (1971): Island 9312 | France LP (1971): Island 6396 008 | Germany LP (1971): Island Ariola 85747 | Japan LP (1972): Island ICL 24
---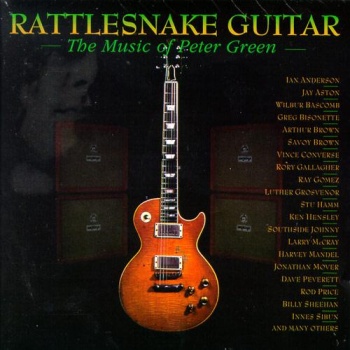 "RATTLESNAKE GUITAR - The Music Of Peter Green" USA 2CD | 1995
(Viceroy 32473/74)

Includes Luther Grosvenor: Merry Go Round / Crying Won't Bring You Back
Other artists: Ian Anderson / Arthur Brown / Savoy Brown / Rory Gallagher / Southside Johnny / Lonesome Dave Peverett / Billy Sheehan / Snowy White / Mick Abrahams / Max Middleton and many, many more
Accompanied by his old friends Mike Kellie (drums), Jess Roden (vocals) and Ariel Bender Band members Davey Moore (keyboards) and Steve Dolan (bass), Luther recorded "Merry Go Round" and "Crying Won't Bring You Back" for this tribute CD. It has since been re-issued as "Peter Green Songbook" (Europe) and "Man Of The World - Reflections On Peter Green" (USA). For details about these, and full track listings of all editions, visit my complete "Rattlesnake Guitar" discography.
---
"FLOODGATES" USA CD | 1996
(RUF/Brilliant RBCD 1007-2)
(also released in Germany: RUF Records RUF 1007-2)

Tracklisting: Evesham Boy / Best Years Of My Life / Floodgates (studio version) / Fullness Of Time / I Wanna Be Free / Ninsky Prospect / Loneliest Man In Town / Fire Down Below / Cathy / Floodgates (live version)
Luther recorded "Floodgates" with the musicians he used on the Peter Green tribute album, Mike Kellie, Jess Roden, Steve Dolan, Dave Moore and Pete Brown. It was produced by Mick Dolan who has produced albums for Mick Jagger, Jim Capaldi and Steve Winwood.
---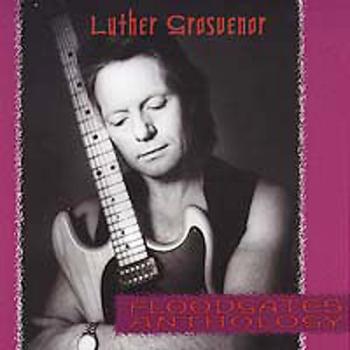 "FLOODGATES ANTHOLOGY" UK CD | 2001
(Angel Air SJPCD088)

Tracklisting: ORIGINAL ALBUM + THE FOLLOWING BONUS TRACKS: "Crying Won't Bring You Back" and "Merry Go Round" (from "Rattlesnake Guitar") / "Sunshine", "Kiss It Better" and "How" (by Spooky Tooth) / "Pretty Colous" (by Deep Feeling) / Here Comes The Queen (by Mott The Hoople)
"Floodgates" wasn't released in England until 2001, when Angel Air Records issued an expanded edition called "Floodgates Anthology", with seven bonus tracks. The Mott The Hoople and Deep Feeling tracks were previously unreleased at the time of release. "Here Comes The Queen" was recorded live in Santa Monica in 1974, and was culled from the forthcoming "Two Miles From Live Heaven" 2CD set. "Pretty Colours" eventually showed up on the Spooky Tooth CD "Live In Europe", and has since been included on a Deep Feeling compilation as well. The Spooky Tooth songs were culled from the "Cross Purpose" album.
---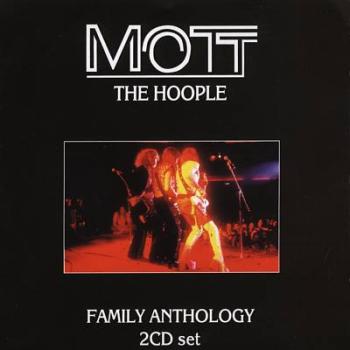 "FAMILY ANTHOLOGY" UK 2CD | 2005
(Angel Air SJPCD196)

Tracklisting: Ariel Bender Band - "Roll Away The Stone". Other artists: Mott The Hoople, Mott, Verden Allen, Mick Ralphs, Morgan, The Silence, The Rats, John Fiddler, Overend Watts, Dale Griffin, Ian Hunter, Mick Ronson, Bad Company, Doc Thomas Group, and many more.
"Family Anthology" was released in July 2005 and has a fine mix of Mott The Hoople material and solo efforts by family members. This is the third family type album to feature Mott The Hoople but the first on Angel Air. "Family Anthology" included ten previously unreleased tracks, including a demo recording of "Roll Away The Stone" by the Ariel Bender Band!
---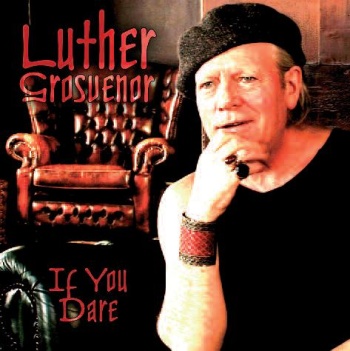 "IF YOU DARE" UK CD | 2011
(Angel Air SJPCD360)

Tracklisting: Dusty Track / If You Dare / Say Never / Emis Song / Fire And Water* / Tears Run Dry / Kids* / Heroes / Nobody Knows / If You Dare (2)

(*) lead vocals by Marc Eden
Angel Air released Luther's third solo album "If You Dare" in June 2011. Luther recorded the album with his mates in the now defunct Ariel Bender Band, Mike Triggs (keyboards), Marc Eden (lead vocals on two tracks) and Jim Houghton (bass), but this time around Luther used drum programming and not a real drummer.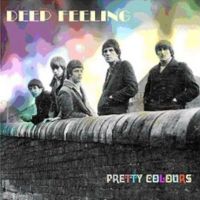 "PRETTY COLOURS" UK CD | 2009
(Sunbeam Records SBRCD5062)

Tracklisting: Pretty Colours* / The Ruin* / Chicken George* / The Necessitarian* / Or Something* / I Put a Spell on You* / Coming Home Baby* / I Don't Know Her Too Well / On the Circle of Life / To a Lady in Black / Imaginations of Alice / Blues for Witley
In 1966, Luther Grosvenor teamed up with Jim Capaldi (drums/vocals), Poli Palmer (drums), Gordon Jackson (guitar/vocals) and Dave Meredith (bass guitar) in the Worcester group The Hellions, having replaced Dave Mason. After changing their name to Deep Feeling, the band hooked up with Yardbirds producer Giorgio Gomelsky and started work on an album.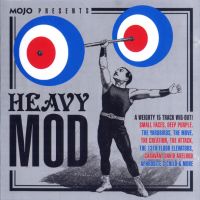 The band recorded five tracks at Rymuse Studios in London during autumn of 1966, when Jim Capaldi quit the band to form Traffic. The rest of the band decided to call it quits, and the tapes were shelved… until now. The only track to surface was the title track - it was first released in 2001 (on Luther Grosvenor's "Floodgates Anthology") and most recently appeared on "Heavy Mod", a mod compilation CD given away with MOJO music magazine in January 2009 (pictured right). Later the same year Sunbeam Records issued a Deep Feeling CD called "Pretty Colours". This 12 track compilation included the 1966 unreleased album, a couple live tracks, plus some recordings made by band members Palmer and Jackson in 1967. In the track listing above, (*) denotes recordings featuring Luther Grosvenor. The first five tracks are studio recordings. "I Put A Spell On You" and "Coming Home Baby" were recorded live for BBC Birmingham.
---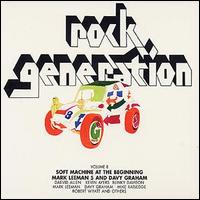 "ROCK GENERATION VOL. 8" France LP | 1971
(BYG Records 529.708)

In the early 70s, BYG Records in France released a series of semi-official compilation albums called "Rock Generation". They were all sourced from producer Giorgio Gomelsky's personal archives and featured a mix of studio demos and live recorings, all previously unreleased.

Volume 8 was released in 1971 and was scheduled to include demos by Soft Machine on side one, and cuts by Mark Leeman 5, Deep Feeling, T-Bones, Ingoes and Dyon Parker on side two. The Deep Feeling tracks were "Poltergeist Of Alice" and "Pretty Colours". But Mr. Gomelsky changed his mind in the last minute and used tracks by Davy Graham and Mark Leeman 5 on side two instead - thus dropping the Deep Feeling, T-Bones, Ingoes and Dyon Parker tracks.

When "Rock Generation Vol. 8" hit the streets, the album played the revised track listing, but the cover listed the original track listing. This first edition was quickly withdrawn and corrected for the second pressing, using the same catalogue number as the first. The second pressing is pictured above.

The cover and label from the first edition are pictured below. "Poltergeist of Alice" is probably the song "Imaginations of Alice" on the 2009 CD.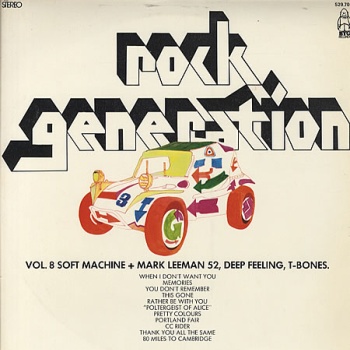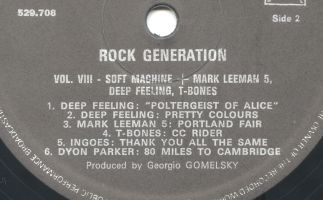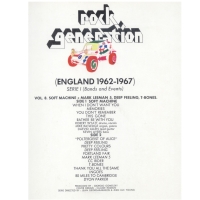 (left to right) FIRST EDITION front cover | label | back cover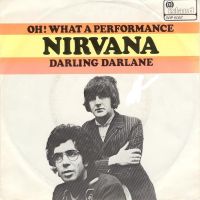 "OH! WHAT A PERFORMANCE" UK 7" single | 1969
(Island WIP 6057)

Nirvana consisted of Alex Spyropoulos and Patrick Campbell-Lyons. The duo invited Gary Wright and Luther Grosvenor from Spooky Tooth to add piano and guitar respectively to the A-side of their final single for Island.

pictured left: German and Swedish picture sleeve editions (Island WIP 6057).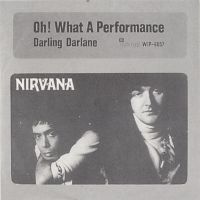 The B-side was "Darling Darlane" and both tracks from the single were later included on the 1992 Nirvana collection "Travelling On A Cloud", released in UK (Island CID 1002) and Germany (Island 74321 11289 2).

They were also bonus tracks to the UK 2003 re-issue of the second Nirvana album "All Of Us" (Island IMCD 302), originally released in 1968.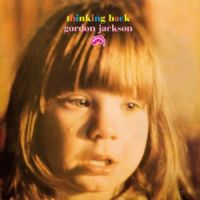 "THINKING BACK" UK LP | 1969
(Marmalade 608 012)

Tracklisting: The Journey / My Ship, My Star / Me And My Dog / Song For Freedom / Sing To Me Woman / When You Are Small / Snakes And Ladders // CD BONUS TRACKS: A Day At The Cottage / My Ship, My Star / Song For Freedom / Sing To Me Woman / Me And My Dog
Gordon Jackson played with Luther Grosvenor in Deep Feeling. For his 1969 solo album he was backed by Traffic (Steve Winwood, Jim Capaldi, Dave Mason and Chris Wood), Jim King and Ric Grech (Family), Julie Driscoll and the Blossom Toes. Luther Grosvenor added backing vocals to the singles "Me And My Dog" and "Sing To Me Woman". A 2005 CD re-issue added single B-sides and alternative mixes:

1968 UK 7" single: Me Am My Zoo / A Day At The Cottage (Marmalade 598 010)
1969 UK 7" single: Song For Freedom / Sing To Me Woman (Marmalade 598 021)
2005 UK CD re-issue: "Thinking Back" (Sunbeam SBRCD5001)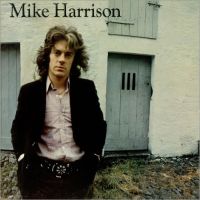 "MIKE HARRISON" UK LP | 1971
(Island ILPS 9170)

Tracklisting: Mother Nature / Call It A Day / Damian / Pain / Wait Until The Morning / Lonely People / Hard Headed Woman / Here Comes The Queen

"Here Comes The Queen" was written by Luther Grosvenor.
Spooky Tooth vocalist Mike Harrison teamed up with local Carlisle band Junkyard Angel for his eponymous solo album. He included a great version of Luther's composition "Here Comes The Queen", but I don't think Luther played on it.
---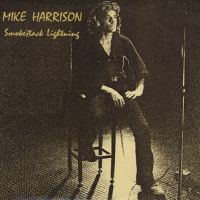 "SMOKESTACK LIGHTNING" UK LP | 1972
(Island ILPS 9209)

Tracklisting: Tears Behind My Eyes / Paid My Dues / What A Price / I Wanna Be Free / Turning Over / Smokestack Lightning

"Turning Over" was co-written by Harrison and Grosvenor.
Harrison travelled to Alabama USA and recorded this album at Muscle Shoals, using their studio band. The track "Turning Over" was co-written by Harrison/Grosvenor and featured Luther on acoustic guitar.
---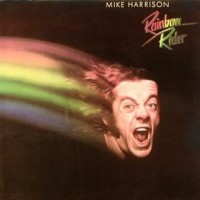 "RAINBOW RIDER" UK LP | 1975
(Good Ear EAR 7002)

Tracklisting: Maverick Woman Blues / You And Me / I'll Keep It With Mine / Like A Road (Leading Home) / We Can Work It Out / Okay Lay Lady Lay / Easy / Somewhere Over The Rainbow / Friend

The USA edition (Island ILPS 9359) had a different cover.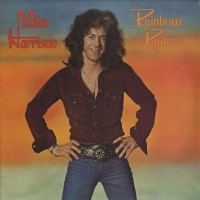 Mike Harrison's third solo album was recorded in Nashville USA and featured contributions from Kenny Buttrey and Norbert Putnam, plus Mott The Hoople's Morgan Fisher, ex-Spooky Tooth (soon to be Foreigner) Mick Jones and the Memphis Horns. Luther didn't play on this album which included the Harrison/Grosvenor composition "Okay Lay Lady Lay", this was also a USA single, backed with "Somewhere Over The Rainbow" (Island IS052).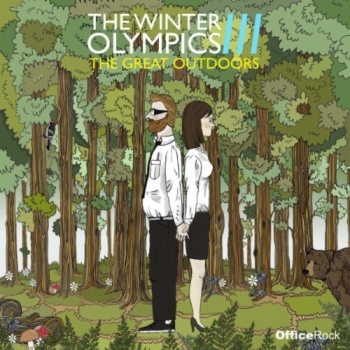 "THE GREAT OUTDOORS" mp3 single | 2010
(digital download)

Luther Grosvenor plays lead guitar on "The Great Outdoors", the third mp3 only single by the Winter Olympics, a UK band consisting of Martin Bowman, Andrew Wagstaff, Simon Oldham, Agatha Mlynarczyk and Neil Mackay. The song was recorded in 2009.

"The Great Outdoors" promo video (with footage of Luther in the recording studio)