the Mott archive
a Mott The Hoople website
with news, discographies, picture sleeve gallery and guide to cover versions for Mott The Hoople and all members and spin-off bands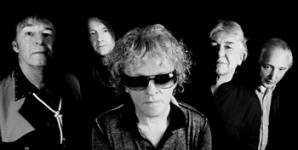 NEWS - September 2008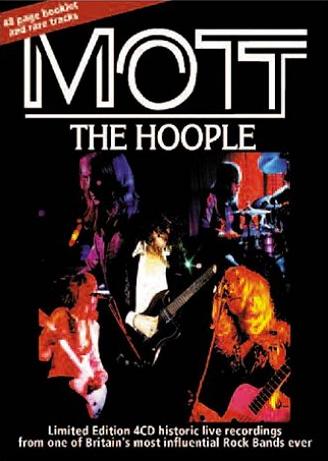 MOTT THE HOOPLE - In Performance 1970-1974 - new 4CD box set!
It's been 10 years since we had a proper Mott The Hoople box set (the "All The Young Dudes" 3CD set) so it is about time we have another! This time around Angel Air have released "In Performance 1970-1974" (pictured right), which combines into one really nice package the 1970 Croydon disc, the 1972 Philadelphia disc and the Live Heaven 2-CD set. As such, all material are previously released - but it is nice to have it all in the same package! The box set also comes with a 48 page booklet written by Keith Smith which includes rare photos from the band members personal archives. More info

New John Fiddler and Morgan Fisher web-TV interviews!
CherryRed.TV is an ever expanding on-line video library of music related footage from 30 years of classic concerts, landmark documentaries and indepth interviews from Cherry Red Record's vast and ever growing archive collection. John Fiddler and Morgan Fisher were intervied earlier this year by Iain McNay, founder of Cherry Red Records. Quick links: The Morgan Fisher Story | The John Fiddler Story
NEWS - July 2008
THE PHANTOMS - self-titled album with Mick Ronson discovered!
Mick's session with Woodstock based band The Phantoms has been well documented over the years - he played guitar on a song called "I Forgot" which was included on a local sampler album in 1987. The Phantoms also released a self-titled album around the same time which included the song as well. Click on the link for an exclusive interview with the producer Ralph Leglini! More info

UPDATE September 2008: added separate page for The Johnny Average Band and Nicole Wills, plus a tribute to Mick Hodgkinson / aka Johnny Average who died of cancer on 19 September 2007. More info
NEWS - June 2008
VARIOUS ARTISTS - "107.1 KGSR volume 13" - 2005 CD featuring Ian Hunter!
Probably old news to most of you by now, but an unreleased live recording of Ian Hunter performing "Wash Us Away", originally broadcast on the KGRS radio station in Austin, TX on 18 March 2005, was included on volume 13 of the radio station's own compilation series back in 2005. The 2CD set was a 'limited' edition of 30.000 copies, but is now sold out. More info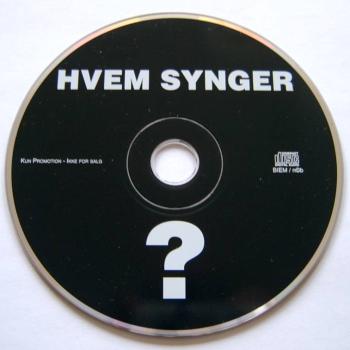 IAN HUNTER - "Too Much" - 1996 promo CD discovery!
When "Artful Dodger" was released in Norway in 1996, a promo video for "Too Much" was shown on national TV and you could actually win a trip to New York to meet Ian if you knew who the performing artist was. This CD-single (pictured right) was also part of the promo package - the "hvem synger?" title reads "Who Sings?" in English. The CD was pressed in limited quantites and is now virtually impossible to track down. A more common "proper" Norwegian promo CD-single was issued shortly after (it was a picture disc showing Ian's face). More info

MAGNUS UGGLA - "All The Way From Memphis"
Swedish recording artist and long time Mott The Hoople fan Magnus Uggla incorporated elements of "Drivin' Sister" and "All The Way From Memphis" in his song "Stockholms heta nätter" back in 2000, included on the album "Där jag är e're alltid bäst" (pictured right). This was not the first time he referenced Mott though; back in 1977 he wrote a song about a Mott The Hoople concert which translates to "the Ballad of the Greatest Rock Band of the 70s" in English! More info

STANLEY FRANK - "Scum Heaven" - demo produced by Mick Ronson!
Another Mick Ronson produced demo has been added to the official Stanley Frank website. "Scum Heaven" was recorded at Bearsville Studios in Woodstock in the early 80s, with Mick as producer, but never released. More info

Mick Ronson fans please take notice:
issue #5 of my fanzine RONSON ABLAZE is now sold out. I have started work on issue #6, but it will probably never get published, due to high postage and printing costs. I plan to use some of the material on this website though, so stay tuned! Note that issue #4 is still available.
NEWS - March 2007 to May 2008
[June 2008] Important message to all fans and friends of THE MOTT ARCHIVE:
The website has been sort of inactive for the last 18 months or so, but is now hopefully back on track. Over the next few weeks I plan to update the website with exclusive interviews, new archive discoveries, rare picture sleeves and many cool cover versions. Thanks for your continuous support!
NEWS - February 2007
MOTT THE HOOPLE - "Fairfield Hall Live 1970" - forthcoming CD!
Angel Air plan to finally release Mott The Hoople's concert at Fairfield Hall in Croydon on 13 September 1970, opening for Free. "Fairfield Hall Live 1970" (Angel Air SJPCD250) is scheduled for release in October 2007. Long believed to be lost or damaged, the master tapes for this legendary concert have been restored and digitally remastered.

NEWS - January 2007
STANLEY FRANK - "Canadian Boy" - featuring Mick Ronson!
Mick Ronson produced some demos for Stanley Frank at Bearsville Studios in Woodstock in the early 80s, but they were never released. But after nearly 25 years, you can now listen to one of the demos ("Canadian Boy") on the official Stanley Frank website! More info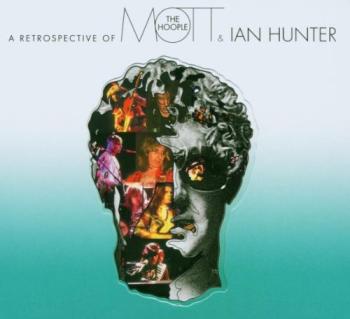 IAN HUNTER / MOTT THE HOOPLE - "The Journey" 3CD set out now! Sony UK released "The Journey - a Retrospective of Mott The Hoople & Ian Hunter" (Sony/BMG 82876 890022) on 21 September 2006. This is a great compilation - covering the period 1969 to 2001! This 53 track compilation features hits, album tracks, rarities, solo Ian Hunter favourites plus the three previously unreleased cuts "I'm In Awe", "Avalanche" and "Morons" (alternate version). More info

LES FRADKIN - "Goin' Back" - new CD featuring Mick Ronson!
Les Fradkin is best known for his production work for the Left Banke and Edison Lighthouse in the 70s, but he has also released a few solo albums over the years. "Goin' Back" (RRO Entertainment) was released in 2006, and includes a track recorded in 1981 with Mick Ronson on guitar and Hilly Michaels on drums! More info